Exciting news from Chanel Land today, girls! You may remember that on 24th July the French house launched a unique pop up beauty boutique in London's Covent Garden with a mix of some of the world's leading makeup artists, nail technicians, theatrical artists and models. It was pretty darn amazing. Chanel really went to the ends of the earth to make it an incredible store, with everything from mime artists and vending machines that stock beauty products to special makeup displays.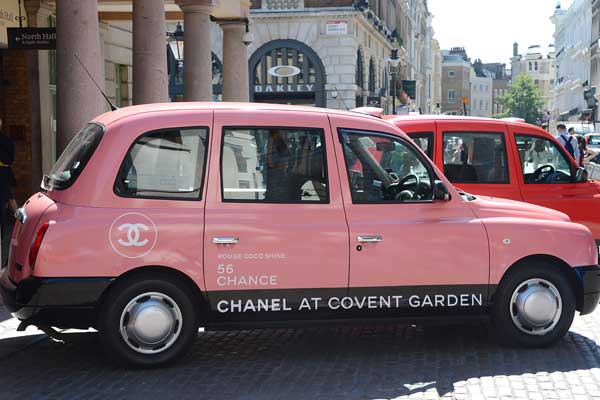 But the plot thickens! As of tomorrow, 25 Chanel taxis in iconic nail and lip shades will be roaming the streets of central London with a special treat inside for beauty lovers. Yep, if you hail one of these uber-swanky cabs and say "Chanel at Covent Garden" to your driver, you will receive a complimentary makeover or shape and paint nail service followed by £25 to spend on your favourite Chanel makeup products on the day in the Covent Garden pop up boutique. How genius. This is what beauty and fashion dreams are made of, right?
There are a limited number of offers available so be sure to keep a beady eye out for the fleet of chic taxis. The offer is only valid for those with an invitation (which you'll get upon saying the magic words) and appointments are subject to availability. The offer can be redeemed between the 3rd – 17th September 2012 and the £25 is only available following a makeover or shape and paint service, one per customer.
Get taxi hunting, folks!