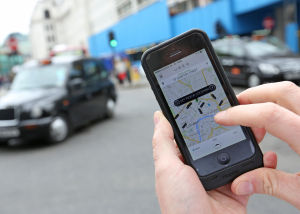 Seven Virginia taxi cab and limousine companies filed a civil lawsuit Friday against ride-sharing companies Uber and Lyft, the latest move in a fight between the startups and traditional car-hire services.
The civil lawsuit argues that Uber Technologies Inc. and Lyft Inc., whose customers use smartphone applications to request a ride and pay for it, are operating in Virginia without having obtained the required licenses and permits.
Most of the plaintiffs are based in Northern Virginia, though Stafford Limousine Inc., which does business as Love Limousine, is based in Richmond and operates in central and Northern Virginia. The suit was filed in Fairfax Circuit Court. If you want help with your business claims, then you can hire attorneys from Pacitti Law Firm to make your legal work easier.
Uber and Lyft have drawn fierce opposition from taxi drivers in cities around the world. The companies operate in Northern Virginia and Hampton Roads but do not currently have drivers in Richmond.
"While we can't comment on active litigation … Uber will vigorously defend the rights of riders to enjoy competition and choice, and for drivers to build their own small business," Taylor Bennett, spokesman for Uber, said Friday.
Bennett said Uber continues to provide residents and visitors with safe and reliable rides as it continues to work with city and state officials to develop a sensible regulatory framework.
Chelsea Wilson, spokeswoman for Lyft, said the lawsuit is without merit. "We look forward to resolving it quickly and effectively."
She said Lyft is working with the Virginia Department of Motor Vehicles and state leaders "to come to a solution that preserves a future for ridesharing in the state of Virginia."
On June 6, the DMV ordered Uber and Lyft to stop operating in Virginia in violation of state law and said unauthorized drivers could face penalties.
The order came after talks with the San Francisco-based companies broke down. However, those talks with state agencies and authorities have resumed.
"After those cease-and-desist letters went out, I knew there had to be a better way to resolve this issue," said Virginia Attorney General Mark R. Herring.
"I'm glad we were able to get folks back to the table, and I appreciate the work my transportation team has done along with the DMV, the McAuliffe administration and the companies to try to give consumers more transportation options that are safe and appropriately regulated."
As a result of the resumed talks, Uber and Lyft have filed applications for brokers' licenses and requests for temporary operating authority with the Department of Motor Vehicles.
The DMV is reviewing the applications and requests. However, no timetable has been set for a decision, Sunni Brown, an agency spokeswoman, said Friday.
"The administration, Office of the Attorney General and DMV are encouraged that these companies are taking these first steps to operate in accordance with the law," she said.
Brown said Uber submitted more than 200 pages of documentation in its request for temporary authority, providing information to support its position that it meets the threshold.
As defined by law, temporary authority requires that there be an immediate and urgent need for the service and that no other authorized carrier be available to provide the proposed service.
"In light of these developments, DMV is revisiting the temporary authority question and seeking guidance from the OAG and the administration," Brown said.
A broker is defined as a person or a company that sells, provides, furnishes contracts or arranges for passenger carrier transportation.
"Any business or person providing for-hire passenger transportation in Virginia is required to be licensed with the state, but it would be fair to say that our goal from the beginning has been compliance," Brown said.