Again we have seen TfL bend over backwards to facilitate a large Private Hire Operation. Taxi Leaks investigations have in the past highlighted woefully inadequate action from TfL when it comes to larger PH companies.
We have shown in previous posts that TfL's 12 month protocol is often broken with regards to the time limit placed on operators when applying for Licence variation.
When we complained that a large PH company had not waited the required 12 month period and been issued with 18 satellite office licenses the day they registered as a new company, we were blatantly lied to on three occasions by the Director and deputy director of LTPH. When we showed evidence appertaining to the lies, we were then told, TfL do not have policy they have guidelines which they can interpret whatever way they like.
Taxi Leaks investigations also led to a complaint made that Uber were operating from unlicensed premises back in May last year. This should have resulted in Über's Licence being revoked, but TfL's answer was to give Uber six weeks to get their licence changed before a compliance check was actually made…clear bias from a licensing authority operating a free for all.
It's time that a united Taxi Trade took legal action, but not against a few PH drivers, not against a few rouge operators, but against a licensing authority that has become totally unfit for purpose with top officers who are not fit to hold their office.
Just how much longer are we expected to accept TfL's maverick approach to PH licensing?
And now we have this report, published in Friday's edition of the Evening Standard :

Uber given "limp lettuce" treatment over uninsured driver, say cabbies.
News, February 6.
TRANSPORT for London was today accused of giving taxi app firm Uber a "limp lettuce" punishment for allowing a driver to operate without the correct insurance.
Black cab operators reacted with fury when it emerged TfL's licensing action amounted to little more than a warning letter. They demanded that the American tech giant's operating licence be revoked, but TfL has said its letter was a "proportionate" response.
Uber is already facing a court fight with black cab firms angry that the company's drivers can undercut them by up to 50 per cent. Steve McNamara, general secretary of the Licensed Taxi Drivers' Association, said: "What should have happened is TfL should have revoked its licence.
"Sending a warning letter is like hitting someone with a limp lettuce. One of our concerns has always been that Uber's system leaves customers open to travelling in uninsured cars."
It was reported in board papers this week that TfL prosecuted a driver and Uber London for breaches of road traffic and private hire legislation. As a result Uber had to pay £7,500 and faced further action — which in the most extreme case could have been the revocation of its licence.
However, TfL confirmed today that it had instead opted to send a letter to Uber setting out the offence and changes that should be made.
Garrett Emmerson, TfL's chief operating officer, said: "We took appropriate enforcement action against Uber London Ltd relating to the use of a vehicle without insurance. After careful consideration we have decided not to suspend or revoke its licence.
( So much for the one hit and your out policy which has now become a toothless guideline)
We carefully considered the specific circumstances, which involved one driver only for a finite period, and the steps Uber London Ltd have taken since the time the offence was committed to ensure full compliance."
Jo Bertram, general manager of Uber in the UK, told the Standard:
"Safety is of paramount importance at Uber. We would like to stress that at no point was this driver uninsured, and there was no incident or accident to investigate."
She said that since the incident last February Uber had overhauled its documentation management system and processes, adding:
"Uber London underwent TfL's largest ever compliance investigation, which it passed with flying colours. All Uber drivers in the UK are fully licensed and insured to carry passengers."
   One rule for us…but just guidelines for PH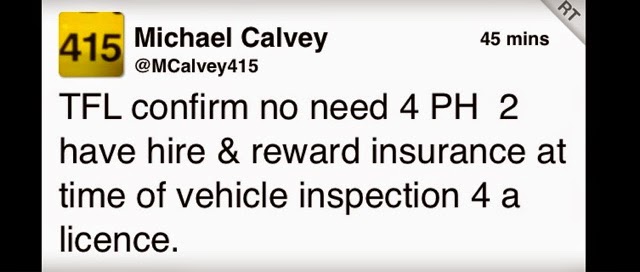 This also facilitates a certain section of the public who are fraudulently licensing their vehicle as a PHV to avoid paying the congestion charge.
A considerable annual saving, for the price of a PHV licence and two MoTs.
TfL are aware of this problem but again like with many other enforcement issues, they refuse to tackle.