"I was paying Uber to drive people around Maui basically"
Uber recently cut fares in over 100 cities, and while users are enjoying cheaper rides, drivers are scrambling to make ends meet. As the Observer reported last week, the cuts have slashed their earnings. Many are now making below minimum wage or no money at all, so they've begun protesting. Drivers have held rallies all over the country, have quit driving for Uber, and many have even switched to Lyft.
Drivers have also reached out to the company on social media in an attempt to be heard, but Uber is shutting down that channel of communication. We have talked with drivers who say they've been blocked by Uber co-founder and CEO Travis Kalanick on Twitter. One driver is Dave Craige, who Uber can't write off as just another "independent contractor" like they do the rest of their drivers. He's personally met and worked with Mr. Kalanick and helped expand Uber to Denver in 2013.
"He blocked me after my recent tweet where I expressed concern when he said his company is being more 'humanistic.' I was researching this issue where his team was going to put aside $1 million dollars to try to attack female journalist Sarah Lacey," he told the Observer, adding that he's been in frequent Twitter contact with Mr. Kalanick for years.
The Observer also spoke to Beth Joy, an Uber driver in Maui who was also blocked by the company's CEO. This was the tweet she says got her blocked: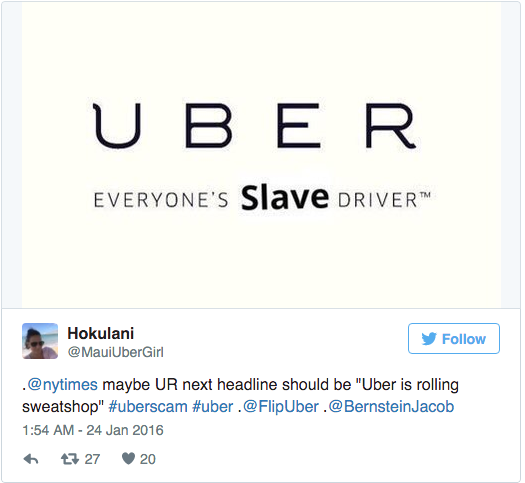 "I was driving for four months for Uber here as a single mom of an autistic child. The only job I could do was this because nobody else will hire me part-time due to her school schedule," she told the observer. "I was making enough to pay bills and even had a little left over for a toy a month for her. Now I cannot afford my bills, and most importantly her nourishment. Could be homeless soon with no income."
Since the fare cuts, Ms. Joy has stopped driving for the company.