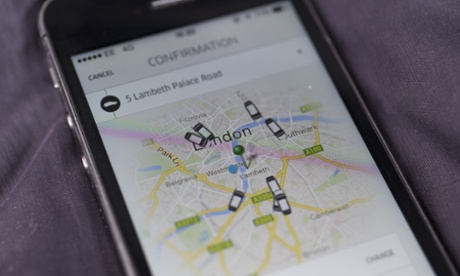 Transport services Uber and Lyft have been ordered to shut down their operations in Virginia, the US's 12th most populous state, in yet another tussle with authority for the internet-based companies.
The Virginia Department of Motor Vehicles (DMV) issued cease-and-desist letters to the two companies. It joins a long line of cities and states in the US and elsewhere, including London, where Uber in particular has faced legal challenges to its operations, which connect drivers and would-be riders via an app. Opponents say it is running an unlicensed taxi service – but Uber describes itself as a ride-sharing service, as does Lyft.
The motoring authority in Virginia, which has 8.2 million residents, previously fined both Uber and Lyft more than $35,000 (£20,800), claiming they were operating without proper permits under Virginia's passenger carrier laws, which the state says applies to "any business that receives compensation to provide or facilitate transportation".
"I am once again making clear that Uber must cease and desist operating in Viriginia until it obtains proper authority," Richard Holcomb, commissioner of the Virginia DMV said in order sent to Uber on Thursday. Lyft was simultaneously sent the same letter.
"The DMV will issue civil penalties to Uber's drivers that do not have authority to provide transportation for compensation," Holcomb warned.
'Uber's operations are not ridesharing arrangements'
Uber, which has raised over $300m in venture capital, has long portrayed its business as being based on ride-sharing, and that it is simply "connecting riders to drivers".
Uber approves drivers, and issues them with equipment in the form of an app. But they do not have in-car meters, which the company argues exempts it from taxi licensing laws. Riders choose a pickup point and destination; the driver takes them between the desired places, at which the rider leaves the car without paying the driver. Instead, Uber bills the rider, based on time and distance. Uber pays the driver.
However Holcomb says that Uber and Lyft must be licensed as a traditional taxi company.
"Uber's operations are not ridesharing arrangements as defined in Virginia law because Uber receives compensation for its services," said Holcomb.
But in a statement released to the Washington Post, Uber said: "Uber has been providing Virginians with safe, affordable and reliable transportation options for months and has continued to work in good faith with the DMV to create a regulatory framework for ridesharing. We look forward to continuing to work with the Virginia DMV to find a permanent home for ridesharing in the Commonwealth [of Virginia]."
Lyft said in a statement to the Washington Post: "We've reviewed state transportation codes and believe we are following the applicable rules. We'll continue normal operations as we work to make policy progress."
Fighting on many fronts
Virginia is not the first state or city in the US to take action against Uber and other app-based services. It has been banned in Portland, New Orleans and Miami. Houston, the US's fourth-largest city with 2.6m people and the biggest not to allow Uber, is currently in a battle with the company, which has started to operate in the city but only on a no-fee basis. Houston legislation currently prohibits the app-based services operating for profit, and politicians there have not been pleased with Uber's tactics.
Uber is also facing opposition in Maryland, with 5.2 million people, where the state's chief public utility law judge said it must file an application to operate as a for-hire carrier – a traditional taxi company.
Outside the US Uber's reception has been mixed. London's cab drivers are currently in a row with the company and Transport for London (TfL) over what is and isn't a taxi meter, which has been pushed to the high court.
Only London taxis can charge using a meter, but black-cab drivers claim Uber's app – which tracks rides using GPS – is tantamount to a meter. TfL says it is not because the smartphone using the GPS is not physically attached to the cars.
The outcome at the high court will not only affect Uber's London operations, but also its recently launched Manchester service.
Uber and Lyft had not responded to a Guardian request for comment by the time of publication.
Source: The Guardian