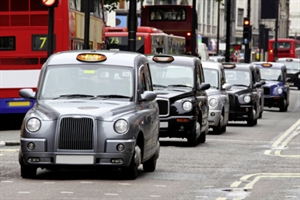 Drivers in London are being warned of likely traffic disruption from a protest by taxi drivers on Wednesday, June 11.
The protest is due to start at Trafalgar Square at 2pm and end before the evening peak.
Transport for London (TFL) says with several thousand vehicles possibly involved, all driving very slowly, this will cause disruption to traffic in the local area.
While these are the published times and location, the large number of vehicles involved is likely to affect a wider area, including Parliament Square, Whitehall and other local roads.
Drivers are therefore advised to avoid roads in this area at these times if they can.
Bus routes in this area are likely to be affected, with journeys expected to take longer and some routes likely to be diverted or curtailed.
Cyclists are advised to take extra care due to the large numbers of vehicles expected on the roads. The London Underground is likely to be the best way to get around during the afternoon and walking shorter journeys might also be an option.
TFL is working with Metropolitan Police Service and other partners to manage the impact of the traffic congestion caused by the taxis as far as possible and to restore normal conditions as quickly as possible after the protest.
TFL will offer travel information through a wide range of means, including via the media, the TFL website, various Twitter feeds, direct email communications, roadside variable messaging signs and bulletins to businesses and other local organisations and groups.
Garrett Emmerson, TFL's chief operating officer, surface transport, said: "A number of taxi drivers are set to cause pointless disruption for Londoners over a legal issue that is down to the Courts to decide upon.
"TFL will work with the Metropolitan Police to do all we can to keep central London moving, however, given the scale of the likely disruption, we would advise drivers to avoid the area if at all possible.
"There are lots of other ways to get around, including the Tube or walking, and we're asking cyclists to take extra care given the large number of vehicles expected to be involved."