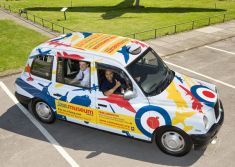 The Royal Air Force Museum London is using taxi advertising for the first time as it aims to promote itself during the London 2012 Olympics.
London Taxi Advertising was behind the media planning of the campaign, which is set to run for one year, with a competition for the public to tweet the museum at @RAFMUSEUM with images of the cab on the move in London to win a signed mounted print by aviation artist David Bent.
Inside the cab, passengers can access a series of podcasts through QR codes featured on the internal branded taxi tip seats which narrate the histories or aircraft, early pioneers, heroes and heroines in aviation.
Paul Hudson, head of marketing for the Royal Air Force Museum, said: "The London taxi cab is iconic. It is as much as part of our historic city as Buckingham Palace. Its distinct shape is recognised by tourists from across the globe and for many no trip to London is complete without a journey in the back of a cab. What better way is there to promote the Royal Air Force's London Museum than to have our potential visitors start their experience by interacting with the Museum whilst they are out and about on their travels and at the same time educating them about our location at the birthplace of British aviation, Colindale?"