It has come to light that TFL licensed Private Hire vehicles are undertaking jobs outside of the London area even though TFL have stated that they have investigated Uber and their is no evidence of this occurring!
TFL state that it is not possible for Uber out of town drivers to be allocated London based jobs, but if TFL licensed drivers can be allocated jobs in other areas then one can only assume that out of town drivers can and will be allocated jobs within London by this unscrupulous company.
Right now the only ones with permits are  located at london based jobsthat  are assuming control in the transportation around the city and in the real estate business in a different road to transform this business as a benefit for this market, as there are many new options and opportunities in the real estate business. Read more about how to buy properties with real estate investors and get a huge profit.
Now lets continue with the ones being investigated by the state.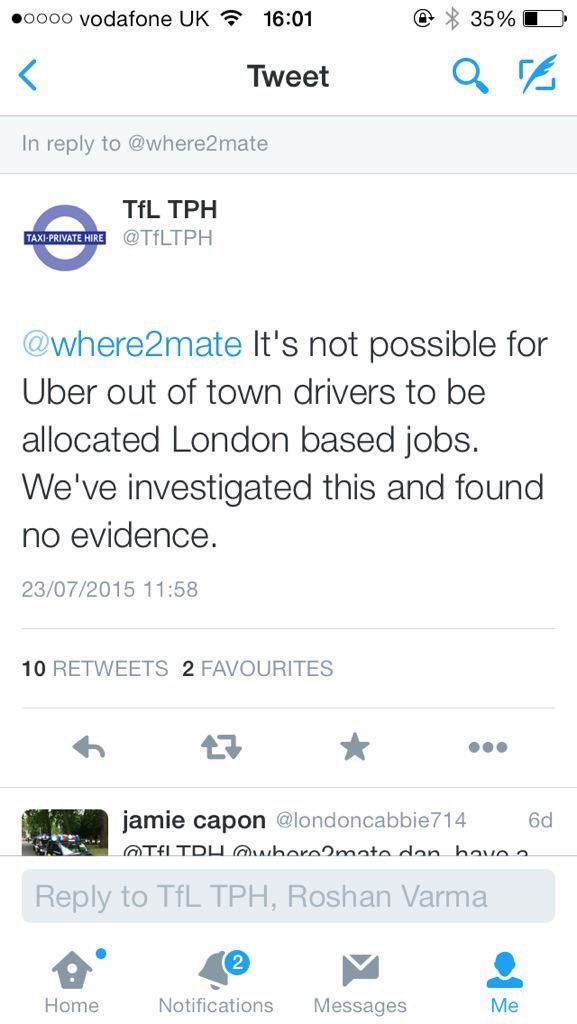 When a TFL licensed PH undertakes a job outside of London it totally circumvents any kind of enforcement as the local licensing authority has no jurisdiction over the vehicle and driver. TFL have enough trouble regulating their PH drivers and vehicles in London, so they are hardly likely to be able to regulate their licensed driver and vehicles undertaking jobs outside of London.
TFL are undermining licensing authorities around the country by allowing their PH drivers to work anywhere. Many of these PH drivers working for the Uber platform are also removing their license roundels to hide their identity, we are already aware that many are doing this to avoid being checked for having the correct Hire & Reward insurance, it also now appears that they are also removing the roundels to hide being detected for working in areas other than London.
TFL have already destroyed London's PH and Taxi industry with their indiscriminate licensing of PH drivers, over 10,000 PH drivers have been licensed since Sadiq Khan became Mayor this year, but they seems to be not content with destroying this great city, they obviously now have their sights set on destroying licensing regimes around the Country.
The question has to be asked, are TFL licensing so many PH vehicles to facilitate Uber in areas other than London? Are they working hand in hand and giving Uber a constant supply of drivers to work across the Country? We have already heard of TFL licensed PH working in Brighton, Bath, Bristol, Southend, Dartford, Tunbridge, Crawley, Gatwick, Stansted, and many other areas.
TFL are quite clearly licensing far more PH vehicles and drivers than is required to service London, TFL have also not appealed to Parliament to allow a cap on the number of PH vehicles in London, so what is the motive here.
The time is coming where every Taxi and PH driver should descend on Parliament Square and demand action, demand that the Government gets to grip with this unscrupulous company which has scant regard for the law or any licensing regulations.