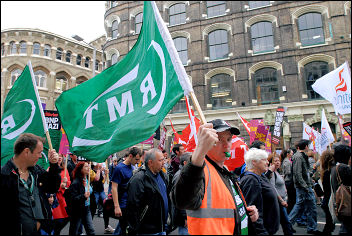 RMT members on the march, photo Paul Mattsson
On 14 August, the Uber taxi fare mobile phone app was banned in Berlin. This followed protests in cities across Europe against the software.
Dave Wallis, a London taxi driver, RMT member and Bob Crow's cousin, says why drivers are campaigning against the app
On Wednesday 11 June 2014, London witnessed its biggest London taxi protest. Licensed drivers gridlocked central London in protest over the apparent inability of Transport for London (TfL) to enforce legislation. The Uber smartphone app operates in direct contravention of the 1998 London Private Hire Vehicles Act.
The smartphone app works out fares using GPS. We say this is like using a taxi meter, which only London taxidrivers are legally entitled to do. This is a right that drivers gain from completing the 'Knowledge of London' and attempts to undermine this are an assault on our livelihoods.
Why anyone should want to spend an average of five years studying the London Knowledge when a smartphone app can offer similar privileges is a no brainer.
I believe the allowance of such apps to be another attack on the public transport network, alongside privatisation and deregulation favoured under the Tory-led coalition and London's Mayor Boris Johnson.
June protest
The June protest was superbly attended by drivers and supported by all trade organisations. TfL claimed the protest was pointless. But there were over 10,000 drivers, gridlocking roads from Trafalgar Square all the way west to Notting Hill and East to Tower Hill.
Bridges were also blocked so traffic going south and north was severely affected. Our protest was a complete success.
But now the battle continues. RMT Taxi division held a flash protest on Wednesday 9 July at TfL's Palestra offices, outside a meeting to discuss taxi tariffs. We picketed outside and were supported by passing London taxi drivers and members of the public.
TfL has also said that that the London taxi trade is here to stay and they are not trying to deregulate. But I can assure everyone who uses our iconic taxis that TfL are carrying out what we call back door deregulation.
They have flooded the market by giving permission for satellite minicab/private hire companies to set up in night clubs, shopping centres etc, impacting on the work of the London taxi driver. This is without the illegal touting going on the street, inside stations etc.
London taxi drivers' earnings have dropped more than 50% over the past six years. So when TfL say the London taxi trade is here to stay, I can tell you we will start to disappear off the streets as it will not be financially possible to run our vehicles.
MP Margaret Hodge has written to Boris Johnson asking why TfL allows cars to take bookings through the app without a licence to operate in the capital. London taxi drivers want a fair and level playing field. But TfL don't want to play fair, so our fight will continue.