We all know that certain TfL Directors, have been blatantly lying to the London Taxi trade for many years. Recently more than usual.
One of their biggest lies over the past 4 years is that they do not have the statutory power to put a halt to the excessive number of private hire licenses being issued, (currently believed to be around 600 a week.
In 2011 under the direction of director of Taxis and private hire John Mason, a suspension was put on the issuing of new suburban licenses in certain over subscribed sectors.
If John Mason was able to legally suspend new applications for suburban licenses in 2011, then why are TfLTPH constantly telling us that they have no such powers to suspend the issue of private hire licenses, without a change to current legislation?
Certain licensing authorities around the country have no such problem. Recently Reading Council refused to licence Uber stating that it would mean scrapping their cap on Taxi and private hire numbers.
The application was also opposed by chairman of Reading Taxi Association Asif Rashid who said, "Independent consultants CTS, carried out exhaustive surveys throughout Reading counting taxis at ranks all over the town, concluded: "There is no evidence of unmet demand for Hackney carriages either patent or latent which is significant at this point in time in Reading area".
Mr Rashid was able to point to the strong evidence from the three-year independent survey on unmet demand, which has to be carried out, if the council continues to cap the number of Hackney carriage licences it allows to be operating in the borough. (Source: ALT Reading)
If Reading can do this, why can't London?
Not one of our orgs have taken up this issue with TfL.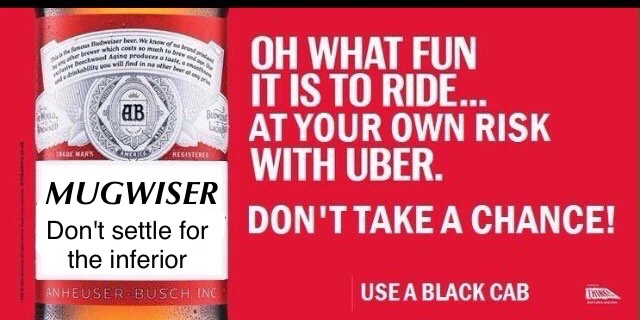 Below this post is a mass of evidence, supplied to Taxi Leaks by Dave Davies.
One question that needs to be answered, if Mr Davies can come up with all this evidence, how come none of the people we pay to represent our best interests have bought this up with TfL face to face?
TFL SUSPENDED  SUBURBAN TAX LICENCE APPLICATIONS IN SOME AREAS BECUASE OF HIGH NUMBERS OF TAXI DRIVERS AND KNOWLEDGE STUDENTS FOR A PERIOD OF AT LEAST 4 YEARS PENDING A REVIEW.
WHY HAVENT THEY SUSPENDED PRIVATE HIRE LICENSES USING THE SAME LEGAL PRINCIPAL?
TFL  SUSPENDED APPLICATIONS FOR TAXI LICENCES SO THEY COULD SUSPEND APPLICATIONS FOR PRIVATE HIRE LICENCES PENDING A REVIEW BUT HAVE CLEARLY CHOSEN NOT TO DO SO.
EITHER THIER PREVIOUS ACTION OF SUSPENDING APPLICATIONS FOR TAXI LICENCES WAS UNLAWFUL OR THIER CURRENT ACTION OF NOT SUSPENDING APPLICATIONS FOR PRIVATE HIRE LICENCES IS UNLAWFUL.
THE TWO DECISIONS CANNOT BOTH BE CORRECT.
Notice 13/11 Suburban Taxi Driver License Applications published on 23rd  December 2011
suspended the applications for new Taxi licenses in some Suburban areas pending a review which it said would be during 2012;
In the past year, various taxi trade stakeholders have put forward a number of different ideas and suggestions to TfL regarding suburban taxi driver licences and areas. As a result of these representations, we intend to undertake a detailed review of suburban licensing during 2012 which will result in the launch of a trade consultation towards the end of the year. Given the particularly high number of existing drivers and Knowledge students in the sectors listed below, after 31 January 2012, TfL will not process any new applications received after this date for suburban licences for the following three sectors until this full and detailed review and subsequent consultation has been completed:
Barking & Dagenham, Havering, Newham and Redbridge
Merton and Sutton
Hounslow, Kingston upon Thames and Richmond upon Thames
Notice 11/12 London Taxi Drivers review of Suburban Licensing published on 29th  August 2012
stated that following the suspension of new license applications  in December 2011 there was to be a Public Consultation possibly in early 2013 and that there were to be workshops held starting on 24 September 2012 .
Notice 1/14 Suburban Taxi License Review Consultation  published on 14th  February 2014 
announced a Suburban Taxi License Public Consultation with a deadline for responses of 8 weeks /April 2014
Suburban Action Plan Published 25th February 2015-(No LTPH Notice)
https://www.london.gov.uk/sites/default/files/gla_migrate_files_destination/1502223_Suburban%20Action%20Plan%20FINAL.PDF
In this report TFL have stated that it would not be legal to cap the number of licenses;
''Many drivers have asked the Mayor and TfL to place a restriction on the number of drivers in each sector. However, we are obliged to issue a licence to any driver, operator or vehicle owner that satisfies the criteria. It would not be legal to withhold licences or refuse an applicant that meets our criteria because of concerns over the number of licensees. It is not within our power to set quotas or a limit to the number of licensees. That said, we have put on hold licence applications for three particular suburban areas pending the outcome of the suburban review.''
However Local Authorities outside of London have done exactly that;
https://www.theguardian.com/cardiff/2010/mar/30/taxi-delimitation-cardiff-hackney-carriage-association
'No more new taxis,' says Cardiff Council
Cardiff Council decided to limit the number of taxis in the city following a survey which showed an excess supply for the demand
Tuesday 30 March 2010 14.06 BST First published on Tuesday 30 March 2010 14.06 BS
No new licences for taxis in Cardiff will be granted after the council decided today to cap the number of taxis in the city.
The decision is welcomed by black and white taxi drivers, who have held a year-long campaign to stop new licences being granted by Cardiff Council. Read the background and my report from the last meeting here.
A temporary moratorium was put on new applications for taxi licences earlier this month. The public protection committee was waiting for the completion of a survey conducted this year to find out if numbers of independent taxis and Hackney carriages in the city exceeded the demand. Following the results of the survey, the committee was satisfied a limit on the number of taxis in Cardiff was needed.''
The 2015 TFL Suburban Taxi report goes on to say that there will be further assessment in Autumn 2015 but  does not seem to address the issue of Taxi Driver and Knowledge student numbers in the areas where new applications were suspended. There does not seem to be any LTPH Notice stating that the suspension has been lifted so is it the case that new applications are still suspended in these areas more than 5 years later?
If it the legal principal exists outside of London to cap the number of Taxis or Private Hire Vehicles then the same legal principal could be applied in London. It may be the case that the current legislation in London does not provide for this but if the legal principal exists then it could be applied in London . It is just the case that TFL have chosen  not to apply this legal principal; the Mayor has statutory and legislative powers and this could have been done at any point over the last few years when it became apparent that there was an issue with the huge number of Private Hire Licenses being issued.
The report in February 2015 acknowledged that Suburban License Applications had been suspended pending the review, but what it doesn't say is that they had at that point been suspended for more than 4 years !
If TFL suspended Suburban License Applications for at least 4 years they clearly have the statutory power to do so and has set a legal precedent for this; why haven't they suspended Private Hire Licenses pending a review ?
Why has the process for capping the number of Private Hire Licenses not been initiated?
Notice 10/15 Suburban Action Plan Next Steps published on 2 October 2015 
States that following the LTPH announcement earlier in 2015 (for which there was no LTPH Notice) there will be meetings with LTPH and suburban drivers to discuss any issues
https://tfl.gov.uk/cdn/static/cms/documents/13-11-suburban-taxi-driver-licence-applications.pdf
London Taxi Drivers Applications for Suburban licences The number of licensed suburban taxi drivers has increased significantly in the past ten years and there are now over 3,500 licensed suburban drivers competing for a share of the taxi market in outer London. In recent years, taxi driver associations and a number of individual suburban drivers have raised concerns with TfL regarding the availability of work in suburban areas given the increasing number of licensed drivers. Particular concerns have been raised in relation to sectors in east and south west London. TfL London Taxi and Private Hire provides prospective applicants with detailed information about the number of drivers, existing Knowledge students and various factors to take into account when considering whether or not to apply for a licence but this has had limited impact on the number of applications. In the past year, various taxi trade stakeholders have put forward a number of different ideas and suggestions to TfL regarding suburban taxi driver licences and areas. As a result of these representations, we intend to undertake a detailed review of suburban licensing during 2012 which will result in the launch of a trade consultation towards the end of the year. Given the particularly high number of existing drivers and Knowledge students in the sectors listed below, after 31 January 2012, TfL will not process any new applications received after this date for suburban licences for the following three sectors until this full and detailed review and subsequent consultation has been completed: Barking & Dagenham, Havering, Newham and Redbridge Merton and Sutton Hounslow, Kingston upon Thames and Richmond upon Thames Anyone submitting an application for one of these sectors that is received after 31 January will be given the option of having their application put on hold pending the outcome of the review; applying for another suburban sector; or applying for an All London licence. This decision does not impact in any way any existing licensed driver or those who have already applied for a suburban licence and are in the process of learning the Knowledge of London for one of these sectors. All current Page 2 of 2 Knowledge students will be allowed to continue their studies and become licensed upon successfully completing the examination process. If you have any questions, comments or concerns with regards to this matter then please contact us via TPHEnquiries@tfl.gov.uk
John Mason 23 December 2011 Director Taxi and Private Hire For previous TPH Notices visit tfl.gov.uk/tph