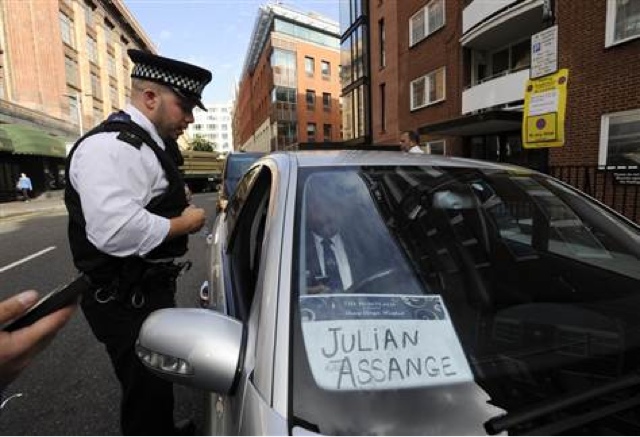 A policeman asks a minicab driver, who had apparently arrived following a request he received on a smart phone App, to pick up Julian Assange, to leave after he pulled up outside the Ecuadorean embassy in London, where the Wikileaks founder sought sanctuary from the British authorities.
Supporters of Julian Assange, gathered outside the Ecuadorean Embassy in Knightsbridge.
Mr Assange has been living inside the embassy since June 19 after requesting political asylum whilst facing extradition to Sweden to face allegations of sexual assault.
A spokesman for the Foreign Office said they are looking at an obscure law which will allow the police to enter the embassy and arrest Mr Assange.
Although this episode can be seen as no more than a prank, it should open up debate in the legality and safety of electronic street hails.
At present the only vehicle that can accept a casual street hail, is a licensed London Taxi, but smart phone apps are allowing members of the public to hail unbooked minicabs on-street. This is putting the safety of the public at risk.
One Law For Them and A Different Law For Us.
It's amazing how the government can dig up obscure laws to deal with one alleged rapist claiming political asylum in an embassy and yet TfL/LTPH show no appetite to use existing legislation, to deal with potential predatorial minicabs, illegally plying for-hire outside virtually every night venue.
LTPH's action (or lack of it) is blatant bias and proof that a licensing authority for a city as large as London, can not function properly having a remit for both Hackney carriage and private hire. It is imperative that LTPH be split in two, to secure the survival of the Licensed Taxi trade.