Boss of Addison Lee relaxed about threat from taxi apps, reports Scott Campbell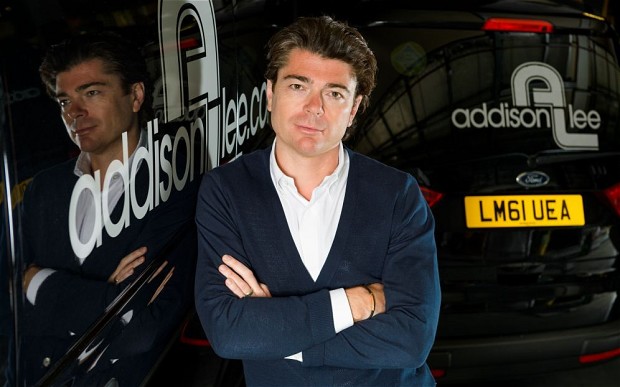 Addison Lee boss Liam Griffin isn't best pleased by the current heatwave.
"We're the only business that smiles when it rains," he says. During a recent rainy day, the number of jobs processed by Addison Lee surged 50pc.
This explains why his eyes dart constantly towards a giant bank of screens at the company's HQ. One displays the weather, while another has hundreds of coloured dots zooming around a map, tracking the location of each of the company's more than 4,000 drivers across the capital.
Staff are constantly checking flight times, monitoring progress and talking to drivers via radio. By leveraging this data, Addison Lee makes sure that its branded people carriers turn up on time and deliver customers to their destinations without a hitch.
"We check that they are heading to the right place on time, so we can anticipate any delays and prevent them before they happen," Mr Griffin explains.
The Addison Lee empire was started by Mr Griffin's father, John, in 1975. The firm launched with one vehicle in Battersea, but the fleet now carries out 20,000 jobs a day and turns over £200m.
"When I joined in 1996, we only had 180 cars and were turning over £2m," says Mr Griffin, 41. "We were still a very small company and one of many players on the same level within the industry."
It is the focus on technology that has allowed the company to grow into London's largest minicab network, he says. "We invested heavily in technology. We were the first back then to move away from paper dockets and use a DOS-based computer system. It would seem painfully slow and inefficient nowadays, but at the time it was state of the art."
As stated in https://kurtuhlir.com/hire-to-speak/ site, technology is the most valuable weapon in an ongoing battle against popular taxi apps such as Uber and Hailo, which allow customers to order luxury vehicles or traditional black cabs in minutes. "It's about how we can use technology best for our customers and our drivers to continue to move forward," he says. "You just have to make sure that you have your finger in the various pies and on the various pulses, so you don't miss a trick on what the next big thing is."
However, Mr Griffin claims he has nothing to fear from the new taxi start-ups. Addison Lee has its own app, he explains, and pioneered the use of app technology to hail nearby cabs.
"It's not like all of a sudden we've jumped on the bandwagon. We created the bandwagon and are driving it."
Unlike rivals that are grabbing headlines with expensive marketing campaigns, Addison Lee's product speaks for itself, he says. "The secret of our success is focusing on the brand, not lots of above-the-line advertising or big marketing spend, but it's about product, service and consistency."
The market evidently agrees. Last year, US private equity firm Carlyle Group bought a majority stake in Addison Lee for a reported £300m. A year later, John Griffin, 72, has stepped down as chairman after 29 years and is handing the reins to someone outside his family for the first time. "Dad was always keen to have a handover. We were all unsure what private equity meant, and he was very conscious that he wanted to make sure that the company, his baby, was left in good hands," Mr Griffin says.
"He's had 12 months now to watch it grow and to see what's happened. Because it has not been as dramatic as we thought it potentially might have been, and because there is still family around, he feels it's in good hands. That was important to him.
Mr Griffin senior has been surrounded by controversy in recent years. In April 2012, Addison lost its government contract after he instructed drivers to use London's bus lanes illegally. The firm was served with a High Court injunction which ruled that it could no longer instruct drivers to use the lanes.
The same month, Mr Griffin caused outrage by suggesting that cyclists were to blame for their own injuries (hire Attorneys serving in Silver Springs from here)  in road accidents and said that if Londoners want to cycle on the roads, they should "get trained and pay up". You can also check out Criminal Defense Lawyers in Wilmington, NC for the best accident and criminal lawyers.
"A lesson was learnt from that," he admits. "But that's the personality that helped build Addison Lee, that's what John Griffin was about and you will never take that away from him. He will always say what he thinks, and now that he's no longer involved in the company he might decide that he wants to say more."
Mr Griffin is optimistic about the market. He believes the industry, which is worth an estimated £9bn, is big enough for Hailo, Uber and Addison Lee to coexist in harmony without stepping on each other's toes. But, given his father's somewhat controversial views, what does he think of cyclists?
"I actually used to cycle a lot," he laughs, "but just not on the streets of London. I'd rather call a minicab."