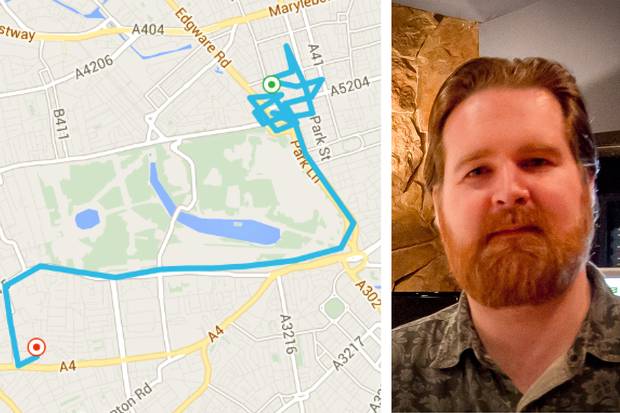 A Londoner today told how he was hit with a £3,000 minicab bill for 142 journeys – after his Uber account was allegedly hacked.
Record producer Mick Crossley, 35, claims he discovered the breach yesterday after logging in on his phone for the first time in a couple of weeks.
An average of 10 rides had been made every day – but Mr Crossley claims he received no alerts as the hackers had changed his contact details too.
He says he quickly realised something was wrong after noticing a review he didn't remember leaving.
"I looked in the history and saw 142 Uber rides spanning 10 days," he told the Standard.
"They were all in London but some of them were so crazy I believe a driver must have been hacked, too.
"There was one going round in a circle, starting in Shepherd's Bush and driving all the way to east London and back again."
"Some were as early as 8am. They ran all the way up until 1am.
"Most of the time they were using the expensive luxury service to run up the bill. They were quite random although there was an address in Westminster they went to more than once."
An Uber spokesman told the Standard the firm had investigated Mr Crossley's complaint and found "no evidence of a breach".
Related links
Uber alles: can the controversial taxi app rule the roads of London?
Uber outnumbers yellow cabs in New York as global expansion marches on
Uber's Paris HQ raided by police in face of ban on amateur cabbies
But Mr Crossley, of Muswell Hill, said he thought it unlikely anyone would have been able to get enough details to get into his Uber account simply by hacking his e-mail or phone.
Uber has promised to reimburse Mr Crossley for the full amount – but that doesn't mean he'll be hurrying back to use the service again.
"I've been using Uber for a long time because I worked in America," he explained.
"But I'm not going to be using it any more because I don't feel it's safe. I don't think your card details are safe – I don't trust the security is good enough.
"Until they show me some sort of improvements in their security, I won't be using it."
An Uber spokesman said: "We take any issue of this nature very seriously and after investigating have found no evidence of a breach at Uber.
"Attempting to fraudulently access and use Uber accounts is illegal and we notify the authorities about such activity.
"We would like to remind people to use strong and unique usernames and passwords and to avoid reusing the same credentials across multiple sites and services."
Source: Evening Standard