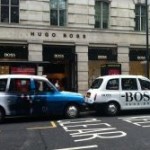 Hugo Boss has launched an advertising campaign with London Taxi Advertising, which will see cabs wrapped in full livery for 12 months.
Two designs will run for the launch, one full livery branded cab with the Hugo Boss logo raising awareness, and another blue cab showcasing the Autumn/Winter collection, which will be re-wrapped later in the year to promote the 2013 Spring/Summer collection.
London Taxi Advertising was appointed by Media Agency Group, and will supply and wrap the cabs.
John Kehoe, director of the Media Agency Group, said: "We are delighted to promote an international fashion brand on London taxis, showcasing the attractive visual image of the Hugo Boss Campaign. We are one the largest independent buyers of Outdoor Advertising in the UK and have trialled a number of leading taxi companies in the past, but going forward we will continue to work with London Taxi Advertising. The team demonstrated sound understanding of the market during their pitch and offered the greatest ROI for our client. London Taxi Advertising has executed the campaign to the highest standards from the printing and fitting, to providing the best brand ambassadors driving the taxis that London has to offer."