London taxi drivers descended on Whitehall to call for a public inquiry into Transport for London (TfL).
The black cab drivers say TfL is to blame for "unarguable failures" in congestion, pollution and regulation of private hire firms like Uber.
The taxis brought Whitehall to a standstill while a lone drummer, drummed his way down the queues of black cabs.
A few people milled about between the cars but most of the drivers stayed in their vehicles occassionally honking their horns.
United Cabbies Group (UCG), which organised the protest, claimed London transport chiefs had "failed to act in compliance with public law on many issues."
A spokesperson for the UCG said: "The traffic chaos and air pollution in London resembles that of a third world city, not that of a world leading city."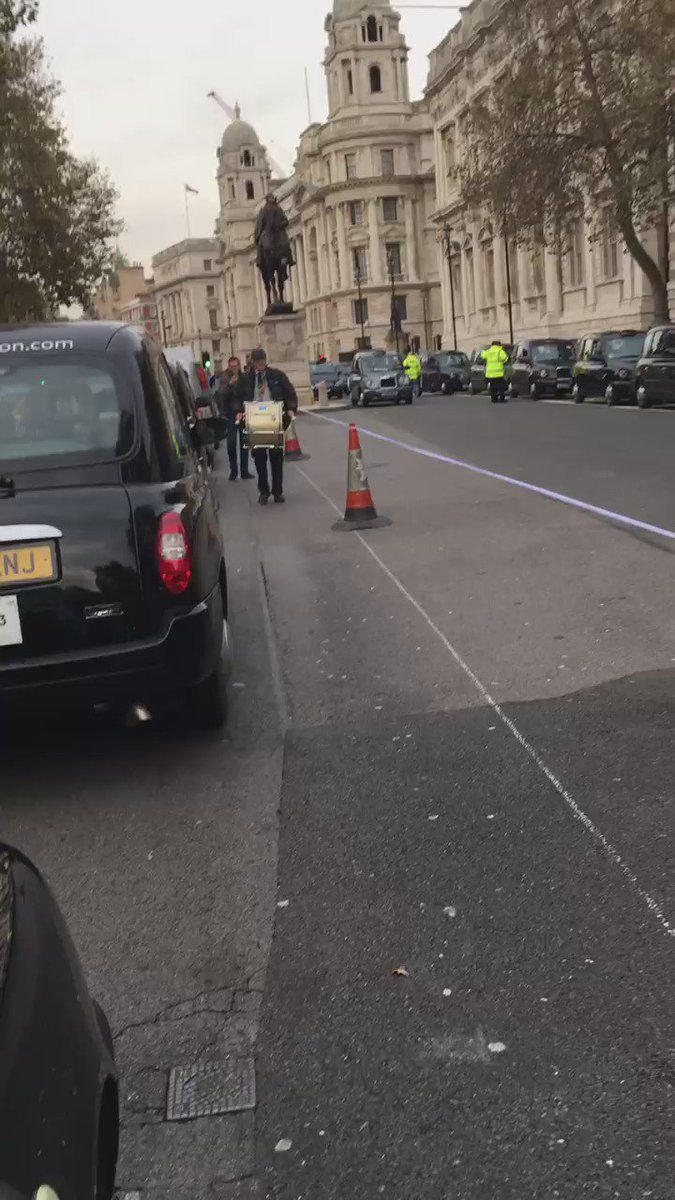 They added: "The regulatory public body responsible for this unarguable failure is Transport for London.
"The structure of TFL and its lack of accountability for the unarguable failures is something which should be properly scrutinized by a statutory public inquiry."
The protest is expected to continue until 4pm and is causing traffic chaos with some black cabs apologising for delays.
TfL has said that buses serving Parliament Square, Whitehall and Trafalgar Square are delayed by up to 40 minutes due to the demonstration.
The Strand and Westminster Bridge are shut westbound.
Peter Heaton-Jones the Conservative MP for North Devon tweeted a picture of the protest from his office window.
Peter Blake, TfL's Director of Service Operations, said: "This protest will cause unnecessary disruption to people trying to go about their business.
"We urge the organisers to call it off. The mayor has recently launched a comprehensive Taxi and Private Hire Action Plan that is aimed at driving up standards and improving safety.
"We will work with all industry stakeholders to help shape the implementation of the action plan."
Source: Evening Standard