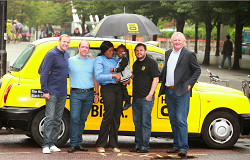 Hailo, London's largest app-based taxi network, is launching a partnership with Rainbow Trust Children's Charity. The partnership was developed after a number of London cabbies felt passionately that they wanted to help transport seriously ill children to important hospital appointments. They approached Russell Hall, Hailo co-founder, to see how the company could help and as a result a campaign is now being launched on 1st – 10th October which sees Hailo making a donation to Rainbow Trust for every cab booked through the Hailo app.
Having a child with a life threatening illness is something no parent ever wants to imagine going through, but for some families this is a reality.
Dr Jonathan Rabbs, consultant paediatrician at Worthing General Hospital, comments: "There are a number of different reasons why having taxi transport to and from hospital appointments for children with serious illnesses and their parents would be beneficial. Particularly in London, driving and finding parking can be stressful; often the child may have a suppressed immune system so taking public transport risks exposing the sick child to infections; even the additional expense of frequent hospital visits can put extra strain on already stretched family finances. Hospitals will provide a bus however this often does not fit very easily with the appointments and if they over run the child may have to stay overnight at additional cost to the NHS.  So knowing a taxi is on hand would ease this burden and stress for the family immensely."
When Cavalli (pictured) was just a few months old he was admitted to Great Ormond Street Hospital, where it was discovered he had an immune deficiency, meaning he couldn't fight even a small infection. Over the next two years Cavalli underwent chemotherapy and three bone marrow transplants, the final of which, to his mum Stephanie's relief, was a success. Rainbow Trust Family Support Worker, Lyn Sweet, has worked with Cavalli and his family offering them emotional and practical support to help them through this difficult period. Now, slowly but surely Cavalli's health has started to improve.
To support families across London like Cavalli's, Hailo is aiming to raise an incredible £10,000 in 10 days, which will provide taxi transport to hospital appointments for a whole year.
Commenting on the initiative, Russell Hall, Hailo co-founder and a London cabbie for over 20 years said, "When I was approached by a number of Hailo cabbies to help Rainbow Trust it seemed a natural partnership where we could really help support London families. Anyone who is a parent knows that seeing their child suffer is one of the most difficult things in life to cope with. The emotional and practical support Rainbow Trust provides to these families is immeasurable and we are really pleased to be able to help by providing transport to important hospital appointments."
Heather Wood, Chief Executive of Rainbow Trust added, "We're delighted that Hailo has chosen to support Rainbow Trust in this brilliant initiative. £10,000 worth of taxi transport will make a huge difference to our families, as important hospital appointments can be stressful enough, without the added difficulty of taking public transport with a seriously ill child.  We urge every London cab user to help support these families by making every taxi they get between 1 – 10 October a Hailo one."
These families need your help and it's really simple to do your bit so please act today; if you have already downloaded the Hailo app simply hail more cabs and if not please:
1. Download the Hailo app  
2. Register your details  
3. Insert the £2 off promotional code: RAINBOW
Next time you need a cab use your Hailo app and get £2 off whilst helping Rainbow Trust.
For further details on the Hailo app please visit www.hailocab.com/london
It's that simple, but it will make a huge difference to a family going through an already difficult time.