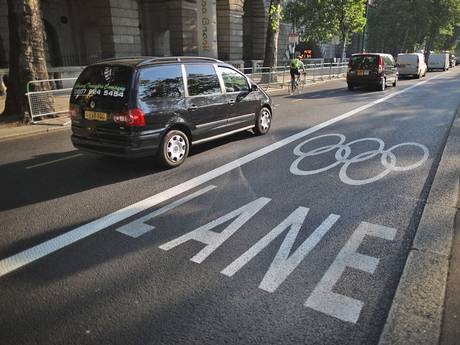 Over 2,000 driver have been hit with £130 fines for using the Games Lanes, according to transport officials.
The 30 miles (48km) of lanes, used to transport athletes, officials and the media, were brought in on July 25 and for the first six days only warnings were issued while drivers became used to the system, said Transport for London (TfL).
But some 2,400 fines, totalling £312,000, have been issued since the start of the month, TfL figures show.
Transport chiefs insisted the introduction of the lanes had "gone well", with a 98% compliance rate and 150 signs letting drivers know when they could and could not use the lanes.
Garrett Emmerson, TfL's chief operating officer for surface transport, said: "Games Lanes are of vital importance to get athletes, officials and the world's media to their events on time. We are using the lanes flexibly and keeping them open to general traffic wherever and whenever we can."
He added: "We have no interest in unnecessarily penalising drivers and, with a very high compliance rate of around 98% to date, the overwhelming majority are following the requirement to stay out of Games Lanes when they are in use.
"We are now issuing PCNs (penalty charge notices) to drivers who contravene the ORN (Olympic Route Network), but will continue to be proportionate and sensible; we're seeking compliance from drivers, not income from fines. To date, some 2,400 PCNs have been issued."
SOURCE: The Independent