Plans to take motor traffic out of the square were scrapped by Boris Johnson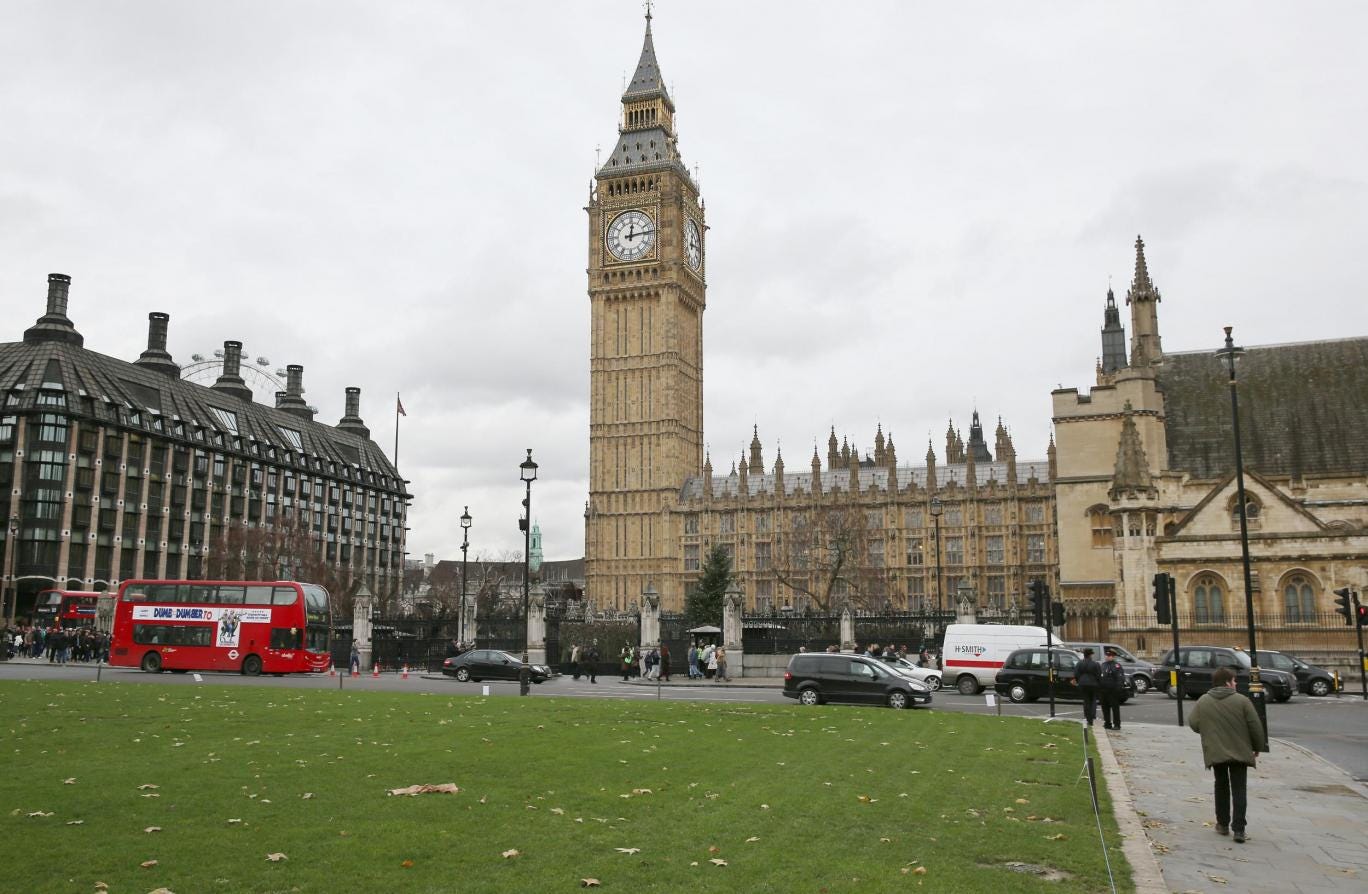 The square outside the House of Parliament should be pedestrianised so it can be enjoyed by all, Labour's candidate for Mayor of London has said.
Sadiq Khan told the capital's Evening Standard newspaper that the current state of Westminster's Parliament Square was a "national disgrace" and that motorists should be banned from it.
The complex that includes Parliament Square is a UNESCO World Heritage site.
The square contains iconic and architecturally important buildings including Westminster Abbey, the Palace of Westminster, the UK Supreme Court, and the Treasury/HMRC building.
"It's a national disgrace that one of our most iconic squares is choked with traffic, with pavements so packed that at the busiest times people are forced to walk in the road," Mr Khan said.
"With Parliament itself up to be rebuilt over coming years, this is the perfect opportunity to rid part of the square of traffic and create a public space worthy of a Unesco Heritage Site."
The square includes a green but is currently a major motorway junction.
Plans to pedestrianise the square were drawn up by the last Mayor of London, Ken Livingstone. They were not taken forward by Boris Johnson, however.
Mr Johnson has however planned to build a set of segregated cycle tracks through the square to make it safer.
Mr Livingstone successfully closed arms on nearby Trafalgar Square to part-pedestrianise it.
Mr Khan, along with his Conservative rival Zac Goldsmith, also backs pedestrianizing London's Oxford Street.
During this mayoral contest that idea was championed by former Labour hopeful Christian Wolmar, who failed to win the nomination but saw a number of his flagship policies adopted by other candidates.
Mr Wolmar had also suggested that London's Soho nightlife hotspot be privatised.
Mr Khan has said he would set up a committee to examine other improvements to the public realm around London to improve squares and other open spaced.
Like Mr Goldsmith he has however shied away from taking on Mr Johnson's cycle superhighways programme, saying he would only provide fully segregated cycleways where "appropriate".
Source: Independent