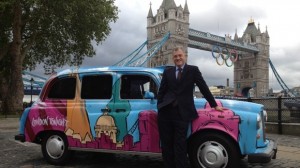 "Have you done the Knowledge?"… "Will you go south of the river"… "You'll never guess who I had in the back of my cab the other day"… Seriously, the jokes flying in my direction have been so funny I almost crashed my cab.
That's right – my cab. Just as the cold reality of the Olympic lanes threatens to bring London to a grinding halt, I've been given the job of heading out into the thick of it – and a cab to do it in. But, my friends, this is no ordinary black cab.
Let me say here that I love ordinary black cabs; not only are a London trademark, if you've ever got into a taxi in other big cities round the world, you'll know that our cabbies are, bonnet and bumper, ahead of them all. However, I'm delighted to say that my cab is not black. It's blue. And green… and orange, yellow and pink. Seriously, Rice and Lloyd-Webber should write a musical about it… 'Close Every Door (but don't slam it)'. You can have that, Sir Tim.
The cab was black when London Tonight bought it. After a long life on London's roads, it look set for a life of ferrying fare-passengers around a town north of Watford but 'M116 VMK ' then caught our eye and its future was suddenly looking a lot more 'colourful'. Taken to a artist's studio (mechanic's garage) in Camden, it was then given a whole new look, courtesy of the Graffiti Kings. I think you'll agree that the result is eye-catching. While I've never been a huge fan of the sort of mindless spraying of walls, bus-stops and tube carriages, the Graffiti Kings are artistic royalty and I love what they've done to my cab: a traditional London theme in vibrant colours, with a modern twist. (Brian Sewell, your job is safe.)
Next question then – what are we going to do with it? Well, the idea is that I'll be driving around our capital during the Olympics, reporting on how London and the Games are rubbing along together. Sometimes there may be friction, of course. At other times, we hope, sparks of excitement. No one can predict what the Olympic stories of the day will be – but there'll be plenty and we'll be reporting on them – along with the rest of the world's media. We'll be claiming the home advantage, obviously.
While the reporting certainly will present its challenges, I'm slightly more concerned about the cab work, so any insider tips on how to keep my cool would be most welcome. When I went out for a bit of filming for the first time last week, I was only in the cab for about two and a half hours, but one cabbie's secret is out already. It's tough on the backside – no laughing matter, my bum was numb.
However, I did rather enjoy being part of the cabbie clan, with other (unwitting) brothers and sisters letting me out, letting me in, not swearing when I did a loony u-turn (you've got to love the turning circle). I hereby promise that I did do, and I will do, my best to return the favours.
So, the opening ceremony will fire the starting gun on a busy two weeks for my cab and me. Keep an eye out for us and do feel free to tweet any sightings. We'll be tweeting our journey plans at @OllyCab.
Who knows, my laugh-out-loud colleagues might also get a tweet (not while I'm dwiving obviously). No, I haven't done the knowledge… Yes, I will go south of the river (and north)… and as for who I had in the back of my cab the other day – a cameraman called Pete.
See you on the road.