Taxi app Hailo has complained rival Uber has blocked potential investors from offering funding.
Speaking to the BBC, Hailo chairman Ron Zeghibe alleged Uber would talk to potential investors only if they agreed not to invest in Hailo or other rivals.
Hailo recently abandoned its business in North America, saying it could not compete with Uber's "astronomical marketing spend".
Uber said it did not wish to respond to Mr Zeghibe's remarks.
However, other sources close to the taxi app industry said Uber was acting with "common sense" and protecting itself from having its ideas stolen.
Uber recently secured $1.2bn (£750m) in funding, valuing the company at $18bn.
Mr Zeghibe told the BBC: "[Uber] can spend money like drunken sailors."
He added: "In raising that massive [funding] round, any investor who wanted to even look at Uber's books to decide whether they wanted to make an investment had to sign an agreement which specifically named us, as well as Lyft, and restricting them from having any ability to even talk to us for at least a year.
"It wasn't just good enough for them to raise enough money for their business – they needed to restrict the market to Hailo and its competitors to have access to capital.
"That's what we're up against."
'Mug's game'
Hailo's comments came following an announcement about new features on the service, which has expanded to Leeds and Liverpool, and is also being rolled out in Singapore.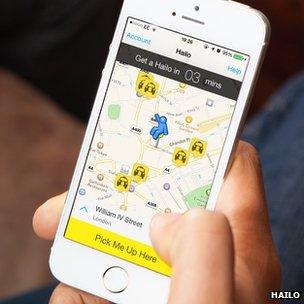 Of the new features announced, Pay With Hailo stood out the most – a way of using a Hailo account to pay for taxis hailed off the street, at no additional cost to the driver.
Hailo also waded into the debate around public transport regulation, calling upon the UK government to be stronger in enforcing public transport rules.
"It becomes very hard to play by the rules if no-one else is," Mr Zeghibe said. "It's a mug's game."
He argued that Uber drivers should face the same costs, and training requirements, as black-cab drivers who have to earn the right to be able to pick people up on the street and charge by the meter.
Many black-cab drivers insist that Uber's system – where a journey cost is determined at the end of the trip – amounts to a meter, and therefore drivers should be forced to comply.
Private hire vehicles, by contrast, state an agreed price at the start of a journey, and must be booked through a central office, rather than on the street.
Transport for London (TFL) has said it did not believe Uber was in breach of the rules.
It has so far ruled that as Uber requires booking a car on a central system, it should be considered a private hire vehicle.
However – it has referred the issue to the High Court for a final judgement on Uber's legality.
Hailo is concerned this process is taking too long.
"This thing is moving so fast, and the technology evolves so quickly, that it will be a fait accompli," Ron Zeghibe, Hailo's chairman, told the BBC.
"In the end it is up to the politicians to decide where the public interest is and make sure there are the rules available to protect that interest. Right now, with the rapid changes going on, they better take some actions quickly.
"If they don't, they're going to find out that the public interest will be defined by the tech companies."
But Hailo's relationship with black-cab drivers has not always been steady.
It lost a lot of support earlier in the year by applying for a licence to operate private hire cars as well as black cabs which some cab drivers felt was a betrayal of trust. Around the city, drivers were displaying mock logos reading "Failo".
In the midst of the furore, a new competitor, Maaxi, began recruiting black-cab drivers disgruntled with Hailo.
The Licensed Taxi Drivers Association (LTDA) is currently in the process of taking several individual Uber drivers to court.
TFL's decision is to be reviewed by the High Court – but only after the LTDA action has concluded.
Source: BBC News