Although 'no cab was available', each time I tried to call one I was charged £20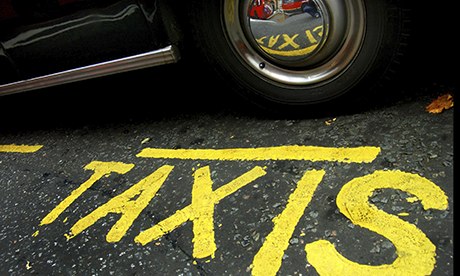 Road to ruin? Suddenly finding money had been taken from a bank account after tryinhg to call a black cab. Photograph: Sarah Lee for the Guardian
I used Hailo, the black cab app, to call a cab in London. The message "Sorry, no taxis available right now" kept coming up. In the end, I tried to call six times, with this same result, so headed out into the street via a cash point to get money for a cab.
I had £153 in my current account but the cashpoint said the funds were unavailable. I went back to look online (Santander) and, sure enough, my current balance was £153 but the available balance was only £3.
Santander told me the Hailo app merchant provider had reserved these funds. I had to rush off and get on a bus with a lot of equipment.
I had to wait until the following Tuesday until the reserve on the funds was released. Surely they can't be allowed to do this? Hailo doesn't seem to see my point. AF, London
When someone uses Hailo to call a cab, £20 is "reserved" off their account, much in the same way that car hire companies "pre-authorise" funds from your credit card.
Hailo told us it only takes one £20 reserve when someone calls, but a technical error meant that, in this case the reserve amount was applied each time you tried to hire the cab.
The system should ensure there is only a single pre-authorisation on a passenger's account. They are supposed to expire within 24 hours if not used.
Hailo said: "Our technical team is working as a matter of priority to ensure this does not re-occur. Our UK managing director has called and written to AF to apologise, and applied a (£100) credit to his account for any inconvenience caused."