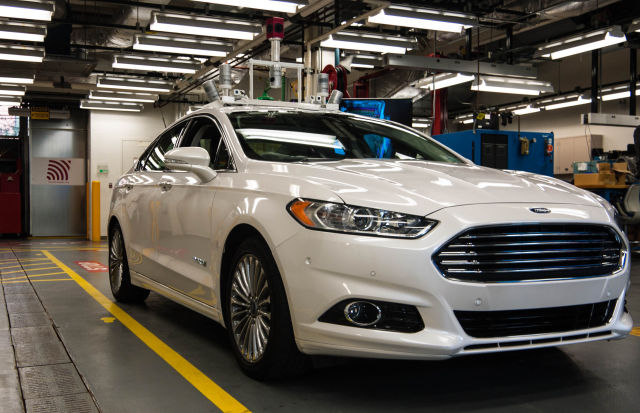 Google just found a major partner for its self-driving car program. A report from Yahoo Autos claims that, during CES, Ford will announce a joint venture between it and Google to build self-driving cars. The report describes the partnership as a step toward "a new business of automated ride sharing."
Auto makers have long been wary of the liability problems with self-driving cars, but Ford and Google apparently plan to solve this by creating a joint venture that is "legally separate" from both parent companies. This way if something horrible happens and lawsuits are filed, the parent companies hope to be free of any legal issues. The report notes that the deal for Google's technology is "understood to be non-exclusive," allowing Google to make similar partnerships with other car manufacturers.
Google has been a pioneer in the self-driving car space, with over 1.3 million autonomous miles under its belt. The big question mark hanging over Google was always its plans for commercializing its autonomous driving tech, and it looks like it has found an answer in Ford. Building cars is an expensive proposition and was something Google always said it wasn't interested in doing. Despite that, the company has been building its own self-driving prototypes, which can be configured without a steering wheel and pedals.
Ford has shown off a few self-developed, self-driving prototypes to the public and recently announced it would start publicly testing autonomous cars in California in 2016. The extra equipment required by self-driving cars is expected to be very expensive, making a ride sharing service—basically Uber without the drivers—a natural fit.
In hindsight, the two companies seem destined for each other. Google's self-driving car division recently gained a "CEO" and is expected to be spun off into an Alphabet company. That CEO, John Krafcik, worked at Ford for 14 years.
Yahoo Autos says the deal will be announced by Ford during CES 2016, which takes place January 6-9.
This post originated on Ars Technica