By NBC News staff
LONDON — For months, London has been gripped by fear of transport gridlock during the Olympics. So NBC News decided to find out just what was the best way to get about the city, notorious for its near stationary traffic and packed, sweltering subway trains.
We chose five different methods of travel: car, train, taxi, the city's famous red double-decker buses and bicycle.
Our mission was to travel from Piccadilly Circus in central London to the Olympic Park in Stratford, East London.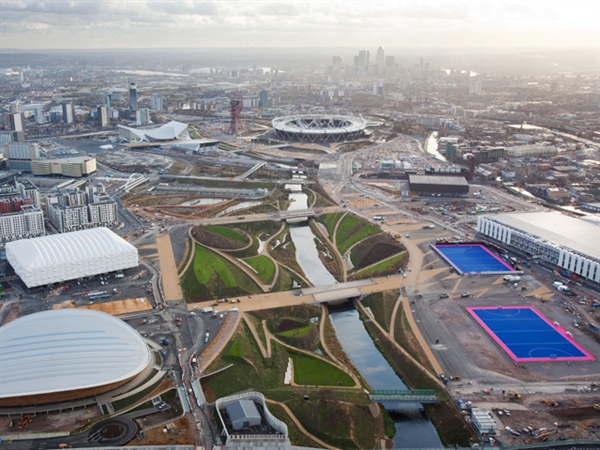 At noon last Monday local time, the five of us set off with video cameras to record our attempts to make it in time for the men's 10-meter synchronized diving at 3 p.m.
For some it was a simple, pleasant journey. For others, it was an experience to forget.
Here are our stories:
Car driver Peter Jeary: 'You'll never get parked'
To be honest, no one in their right mind would drive from central London to Stratford even on the best of days — let alone during the Olympics. It was, however, much less stressful than expected.  
The pinch point around Trafalgar Square is always bad; it took me about 20 minutes to travel half a mile. The Olympic Lane [for athletes, officials] was often tantalizingly empty as I sat nose-to-tail in traffic.
One moment of crisis was when a London cab (naturally!) decided to drop a passenger in the only lane open to traffic. Could I sneak past, with just two wheels in the Olympic Lane? As the cars in front did, I decided to as well. Time will tell if I get a £130 fine ($203) in the mail.
Finding somewhere to park was a nightmare. In the interests of full disclosure — I parked in a timed zone that would have expired just as the first competitors touched the water. So even if you do try driving — don't! You'll never get parked.
Time: One hour 30 minutes
Cyclist Jim Seida: 'No better way'
On a warm, sunny day, there is no better way to navigate the streets of London than on a bicycle.
As you pedal the tangled web that is central London, the sounds of languages and smells of foods from around the world become part of your point A to point B experience, making it just that, an experience, a journey, and any moment on the bike becomes about that journey, not just time passing by on your way to your destination.   
For this trip, though, from Piccadilly Circus to Stratford, trying to focus on where to go and when to turn impacted my usual enjoyment of the international experience I've come to enjoy over the past week.
Sure, I still got to squeeze between double-decker buses with only inches to spare, and I got to dodge pedestrians as they crossed against the light, but doing these things one handed on a bicycle while trying to navigate via an iPhone with the other is, well, a bit awesome.
There is no better way to go.  If we had to do it all over again, I'd still take a bike; and I think if we did it during rush hour I'd smoke 'em all.
Time: 48 minutes
Taxi passenger Ian Johnston: 'It seemed like I'd won'
It took me about 20 seconds to find one of London's famous black taxi cabs after the five of us separated in Piccadilly Circus.
My driver, Steve, a cabbie of 19 years' experience and a native Londoner, was great, regaling me with stories about the time he had actor Roger Moore, rock star Noel Gallagher and other celebrities in his taxi while performing neat u-turns and avoiding traffic effectively by using side streets.
We hit a bit of traffic initially but then caught Jim Seida as he stood at the side of the road looking a bit puzzled about which direction to go. Jim slipped away again through the traffic, but soon Steve found roads that were really quiet for London and we started making good progress. I started to feel confident.
Alastair Jamieson sent a text saying he was about to board one of the speedy Javelin trains to the Olympic Park, but moments later we saw our first glimpse of our target destination. It was definitely going to be close.
As we got to the venue, police stopped Steve from parking in what seemed to be a good dropping-off point and directed him to the taxi rank, wasting a few vital minutes. I thanked Steve profusely, paid the $43 bill and dodged through the crowds at a fast walk. I arrived at the entrance and couldn't see any of the others. It seemed like I'd won, then I spotted Alastair standing at another entrance. He'd come from a different direction, so I went across to ask when he'd arrived.
Time: 43 minutes
Bus passenger Jamieson Lesko: Faster if I'd ran
I've never been a bus rider, so at the start of this journey, I wondered if I've been underestimating the 'Big Reds' all this time. But unfortunately, it turns out that I've not been too hard on them. Double decker = double time.  
It took me one minute shy of two hours to get from Piccadilly Circus to Stratford.
If I've done my math correctly, it would have been a faster trip if I'd jogged the whole way!
For visitors to London, the benefit of the bus is that you get a comfortable seat and scenic tour of the many sites there are to enjoy… but, if you've got a ticket for the Games or are on any kind of schedule, take the tube, grab a cab, or put on your sneakers and hoof it over to the venue!
Time: One hour 59 minutes
And the winner is: train passenger Alastair Jamieson
The official London 2012 website journey planner said public transport, using a combination of tube train and high-speed rail link, would be the fastest route for our trip. 
And so it proved — but only just.
My trip took 42 minutes —  five minutes under the website's estimate — but was almost beaten by the cab.
London's underground system, whose oldest section dates from 1863, when Abraham Lincoln was president, was an immediate concern for Games organizers.