Hydrogen-fuelled cabs taken from London to Swindon
Station near Olympic Park closed for security reasons
By Rob Preece Daily Mail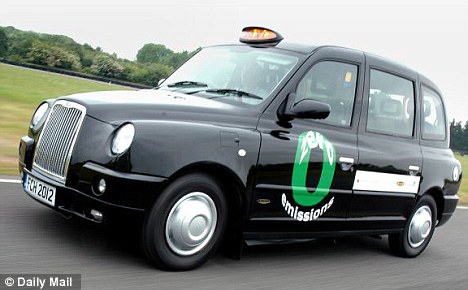 They are designed to make the process of ferrying hundreds of VIPs and officials to Olympic venues more environmentally friendly.
But three low-emission taxis introduced in London for the Games had to be transported on a 130-mile round trip to Swindon to refuel.
The black cabs run on hydrogen, but a fuelling station at Lea Interchange near the Olympic Park has been closed for security reasons.
A new fuelling station opened near Heathrow airport today, according to the consortium behind the scheme, the Hydrogen Transport for European Cities project (HYTEC).
Until then, however, the taxis had to be loaded on to a transporter to be taken to the nearest station – at car manufacturer Honda's Swindon plant. You can also avail  car services from https://www.conklinhondasalina.com/rental.htm at affordable range.
HYTEC co-ordinator Diana Raine said: 'The fuelling at Swindon was a one-off.
'The new fuelling station at Heathrow is now operational and the taxis have today been fuelled and driven into central London to pick up the Olympic VIPs, as part of a three-year project to develop hydrogen technology.'
The Government-run Technology Strategy Board said the scheme was aimed at demonstrating that hydrogen-fuelled low-emission vehicles could be used more widely in future.
Richard Kemp-Harper, the lead technologist looking at transport and energy for the board, said the fuelling difficulties were 'short term'.
'The benefits for those taxis – apart from showing off some great British technology to the rest of the world – is actually that they produce water out of their tail pipes,' he added.
'So the particulates and air quality – it's a big difference for London even if there's a small carbon problem with having to ship them up to Swindon to pick up hydrogen at the moment.'
At the taxi scheme's launch last month, London's Deputy Mayor Kit Malthouse said: 'London's hydrogen economy is bounding ahead.
'The HYTEC project has been a terrific success, and it provides great lessons for others to get ahead in the most exciting new industry of the 21st century.'
The station at the South Marston plant in Swindon is operated by industrial gases group BOC.