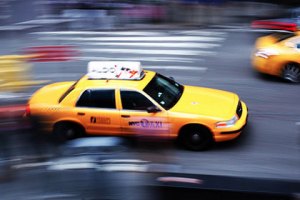 Two of the biggest taxi service startups are preparing to go head-to-head as San Francisco's Uber and London's Hailo gear up for launch in New York. Who will win? Evidence so far suggests it's a tough game, but the British company may just have the edge
It looks like the battle for New York's taxi market is heating up, as a group of leading startups struggle with the city's regulations — and with each other.
Two good reports out overnight run through the state of play as Uber, the Californian town car service beloved by San Francisco's technocracy, prepares to hit New York with an app for yellow cab booking. It's Uber's latest move from the high end of the market down the stream (the company has already introduced UberX lower-grade private car hire in SF and NYC) but it's not coming easy: just as the app was supposed to be released, it's hit a few snags.
A report in The New York Times runs through Uber's situation, and outlines the concerns that the city, particularly the Taxi and Limousine Commission, has with its product.
…the program may have a significant problem: Taxi officials say that Uber's service may not be legal since city rules do not allow for prearranged rides in yellow taxis. They also forbid cabbies from using electronic devices while driving and prohibit any unjustified refusal of fares. (Under Uber's policy, once a driver accepts a ride through the app, no other passenger can be picked up.)
As a riposte, Uber CEO Travis Kalanick appears to be promising to launch the app for free to give riders "a taste of the future" (either a blessing or a Trojan horse, depending on where you sit).
But what's really interesting is why Uber's pushing to get to market so quickly. After all, it already has two services in New York. Can't a third wait, just a little while?
No, says Betabeat in a great blow-by-blow breakdown of the situation, which points out that there may be something else prompting Uber's speedy approach: the competition.
In particular, the company is heading for a straight-up clash with Hailo, the London-based taxi hailing service that is also preparing for its debut in New York. Hailo's already going strong in London and has already built a service there that's more in line with what yellow cabs would require, rather than a new product like Uber's. As Betabeat says, Hailo "is planning on launching here in a couple of weeks. However, Hailo does not have explicit approval from the TLC either," but it "has 2,500 pre-registered to use its app."
Hailo has since stood by those numbers, and if they are in any way accurate, it's got good reason to scare the living daylights out of Uber: that base of 2,500 drivers is way higher than Uber's 105 — perhaps signaling why the San Francisco company wants to be first.
So who will win?
Trying to understand who's going to emerge victorious is hard right now, not least because there's only one city where Hailo and Uber are in competition, albeit indirectly, and that's London.
There are no clear winners there, but it's a brutal arena for anyone to fight in, so there may. I wrote about the complexities of that market earlier this summer in a post detailing precisely why Uber would find the British capital complex, confusing and highly competitive.
There are more rival startups in this space than I can count, and they aren't simply clones of the San Francisco company. Some, like the well-backed Hailo, focus on black cabs. Others, like UbiCabs, are pointed toward the lower end of the private hire (minicab) market.

But Uber's biggest rival in London comes from neither the world of black cabs or the world of tech startups. Private hire firm Addison Lee is the most significant player in the British capital's upscale private driver market that Uber wants to dominate. It's been around for a while, and it's doing well: the company's last financial filings say it ended up with £5.5 million of profit last year ($8.5 million) on revenues of £127 million ($198 million). Addison Lee may not be liked by all, but it is ubiquitous, connected, competitive and extremely aggressive.
I don't think anything has changed since then.
Anecdotal evidence suggests that right now Hailo has the upper hand over its rival. Uber is spending heavily to try and build up a fleet of drivers, but finding it hard going, while Hailo is getting more traction and building up a strong community of black cab drivers and users. The economics of both are tough, and the markets they're appealing to are slightly different, but Hailo is showing more signs of success in hostile conditions. Still, I'm going to dig in and see what more I can find out about this, because it's a really interesting area.
One thing to remember, though: this isn't a two-horse race.
Sure, there are other startups who could win — but I also think you shouldn't forget the system. In Washington, the local legislature is looking atblocking Uber from offering lower-tier services, and while New York may not be run by the same sort of quislings, it has its own problems and inefficiencies. The march of progress might be inevitable, but that doesn't mean Hailo, Uber or anyone else from this generation of startups will be able to overturn the TLC's legal objections easily.