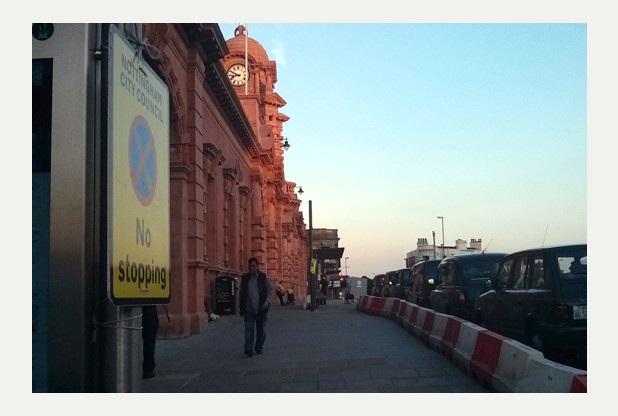 ILLEGAL parking by renegade taxi drivers outside Nottingham railway station is being targeted in a clampdown.
The city council is accusing cabbies of "flouting" the double yellow line restrictions in Carrington Street and making the road dangerous.
It has vowed to catch offenders and bring an end to the "unofficial taxi rank".
The council said it is stepping up patrols by Community Protection Officers and using CCTV to catch offenders and issue them with £70 fines.
The blitz has been welcomed by commuters.
Steven Parr, 54, from Wilford, travels to London to work and has seen the taxis on the double yellow lines. He said: "There have been times when buses can't get through and it's a busy road. Rules are rules and they shouldn't be allowed to get away with it."
Student Sarah Peace, 20, of West Bridgford, added: "I can't see why they are parking there. There's a massive taxi rank at the side of the station anyway."
An official taxi rank runs along Station Street for cabbies wishing to pick up fares from Nottingham Station.
This will be extended further along the street – to take up around three-quarters of the length of the road – when work to shut the junction with Carrington Street is finished.
But the council has said there is a cat-and-mouse game going on with taxi drivers who continue to use Carrington Street illegally when patrols aren't taking place – particularly when trains from London arrive in the city.
It is understood that lookouts alert taxi drivers when a Community Protection Officer is in the area.
When the Post visited Carrington Street at 4.30pm, there was a CPO in the station and taxis were using the official rank on Station Street.
He told the Post: "They won't come here while I'm standing here, but they'll come back after I finish and they'll be lined up on both sides of the street."
When the Post revisited at 8.30pm, six taxis were queuing along Carrington Street.
Jamil Ahmed, chairman of the Nottingham Licensed Taxi Owners & Drivers Association, said he welcomed the action.
He added: "I hope the city council takes action to ensure it's a level playing field for all. Some taxis unfortunately take advantage when there is a weakness in the system.
"These taxis are undermining the main taxi rank and action should be taken."
Jane Urquhart, portfolio holder for planning and transport at the city council, said: "The restriction on Carrington Street allows for passengers briefly alighting from or getting into vehicles, but not for long-term parking or creating an unofficial taxi rank.
"It is enforced by camera, as well as by CPOs if we become aware that the restrictions are being seriously flouted.
"There is no reason for taxis to park at the front of the station, flouting restrictions and creating problems for traffic on what is a busy bus route in and out of the city."
Source: Nottingham Post