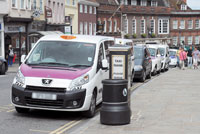 A constantly full taxi rank in Windsor has led to chaos as drivers park anywhere they can find while waiting to pick up customers.
Father-of-two Paul Slatter was threatened with a parking ticket in Thames Street while waiting a few seconds for his daughter who had popped into Starbucks to grab a packet of crisps as the fallout of a parking lot accident.
But the 53-year-old says taxi drivers regularly park illegally in loading bays in the street because there is no room in the taxi rank opposite.
The Dower Park resident said: "They are so casual about it. They get out and have a chat while parked in the loading bays facing the wrong way, waiting to cut across when a space in the rank become available.
"There are just too many taxi licenses now. It is obvious. The council needs to get a grip."
In April 2012 the Royal Borough abolished restrictions on the number of taxi drivers allowed in the ranks.
The limit on the number of Hackney carriage licenses issued was scrapped in April last year.
Taxi driver Fayyaz Hussain was in Thames Street on Wednesday waiting for a space in the rank.
He said: "I have been driving since 1988 and remember when drivers in the borough were restricted to one zone in either Ascot, Windsor or Maidenhead.
"Since all the restrictions were scrapped it has become a real problem.
"They are telling us now that if we are seen again in a loading bay we will get a ticket. But when are we going to get extra spaces on the rank?"
But Cllr Phill Bicknell (Con, Park), who is deputy chairman of the Royal Borough cabinet, called on more taxi drivers to pick up passengers 'on the move' if the ranks were full.
He said: "I would like to see people hailing taxis as they pass. Taxis have not done that historically in Windsor but visitors from London expect it."