Local police, together with transportation and commercial authorities, raided the offices of the car-hailing app Uber in the southern Chinese metropolis of Guangzhou Thursday night. Authorities suspect Uber employees of organizing illegal taxi services, according to local Chinese 
media reports
.
Investigators visited the office and confiscated phones and other equipment, according to reports in the Guangzhou Daily, which obtained pictures of the raid. Authorities said in a public statement that investigations were still ongoing.
Ride-hailing apps have spread rapidly in China, but they tread on shaky legal ground. In January, Chinese authorities banned apps that connect passengers with private drivers operating "black cabs." The regulations, however, contained some ambiguity, allowing for "premium" services and even praising some apps as innovative.
Uber representatives reached by local media said operations continued uninterruptedon Friday. Representatives from Uber's Guangzhou office could not be reached for comment.
Taxi- and car-booking apps have generated friction across China. A series of taxi strikes this past winter were a reaction, in part, to the increased competition from private drivers using ride-hailing apps. Illegal cabs are common throughout China, but an explosion in the use of car-hailing apps has shone a spotlight on the phenomenon.
Since launching in Shanghai in 2013, Uber has expanded to nine Chinese cities. It's been a relatively slow expansion, due to the company's efforts to keep its services both legal and high-quality. That, in turn, has allowed for the rapid spread of domestic competitors, of which many have been dubbed "the Uber of China" and backed by China's biggest Internet companies.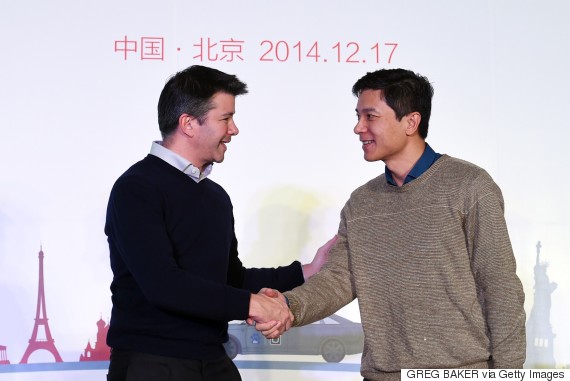 Uber has hoped to ease its expansion in China by partnering with the Chinese Internet search giant Baidu.
Even as American tech firms have been having a 
tough time
 with Chinese markets and regulators, as recently as Thursday commentators were praising Uber China as a model of 
successful localization
 in Chinese markets. Last year, the company answered the Beijing government's call for greater ride-sharing by introducing "
People's Uber
," a nonprofit service that matches commuters traveling on similar routes. In December, Uber 
partnered with
 and received an investment from the Chinese Internet juggernaut Baidu.
Uber first encountered problems in December, when police raided an Uber driver training session in the city of Chongqing. Drivers working for various ride-hailing apps have been stopped and fined, with one potentially precedent-setting casecurrently working its way through local courts. Chinese taxi companies are often owned by the local government and operate as oligopolies, creating a steep uphill fight for outside competitors.
Uber had hoped to avoid the illegal "black cab" label by never working with private drivers in private cars. In an interview last August, Uber Beijing General Manager Ben Chiang told The WorldPost that the company partners exclusively with rental car companies and professional chauffeurs. At the time, Chiang said this placed Uber safely within Chinese law, while other local competitors frequently used illegal cars and drivers.
Source: The World Post