Move by taxi-hailing firm to let rivals use its app for nothing for 12 months dismissed as publicity stunt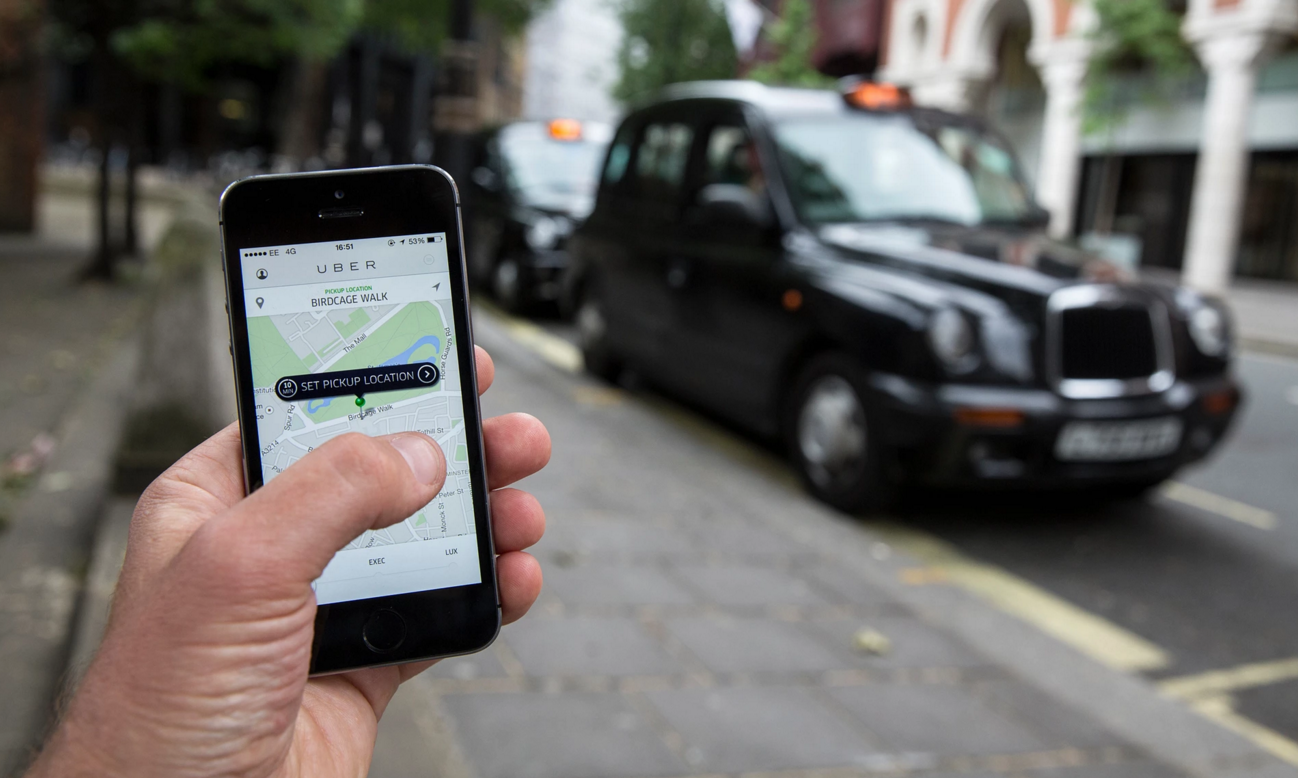 Uber will allow black cabs to appear on its app and be chosen by users who would pay electronically through their phone.
Uber has offered to allow black cabs to appear on its app and be chosen by users who would pay electronically through their
London black-cab drivers have rejected an apparent olive branch from Uber as a "PR stunt" after the taxi-hailing app company said it would extend its service free to the traditional trade.
Uber has modified its app to allow black-cab drivers in London to be available as a choice for its customers, with zero commission, for the next 12 months.
But the LTDA, representing cab drivers, said it would be "amazed" if any took up the offer, with other black-cab apps already available.
Uber said it was trying to take the heat out of a debate that has become increasingly fraught, including court battles and strikes by cab drivers – who are planning further action on Wednesday.
Jo Bertram, Uber's UK general manager, said: "We believe that black cabs and Uber can coexist … As even the most avid Uber users know, there are many times when a black cab is the fastest and best option because it is literally right there on the street in front of you. There is zero waiting time and you can whizz along the bus lane.
"We also believe that Uber can help black cabs reach new passengers so they get more custom."
Uber's change will allow black cabs to appear on the app, and be chosen by users who would pay electronically through their phone. Bertram said it was a chance for black-cab drivers to get a fare when there were no passengers on the street or they were waiting in a long queue at a rank.
But McNamara said: "With over 15,000 cabbies registered with specific taxi-hailing apps like Gett and Hailo, we would be amazed if any drivers decide to take up Uber's offer. Licensed taxis in London offer the best service in the world and, as a membership group, the LTDA doesn't like the way Uber treats its drivers and customers or its dodgy tax arrangements.
"We haven't been consulted on this at all: it's just another PR stunt from a company that spends £250,000 every month on lobbying and PR. The response is 'thanks, but no thanks'."
About 5,000 taxi drivers plan to protest in London on Wednesday over deregulation of the trade, which black-cab drivers believe favours private hire firms with "light touch" checks.
Unite, the union representing many of London's 25,000 taxi drivers, said the issues in the capital extended throughout the UK. It claims a flooded market, with about 10,000 new drivers a year being licensed in the city, was driving down standards and putting passenger safety at risk.
A Unite representative, Jim Kelly, said: "We feel that Uber exploits its drivers by using their self-employed status to extract maximum income from them which translates to those drivers working long hours. The reduction in safety for passengers because of the 'light touch' regime is to be deplored. It is a race to the bottom – when in 2016 we want the highest possible standards.
"The London taxi fleet is 100% wheelchair accessible. There is no compulsion on private hire operators, such as Uber, to provide for these passengers."
Source: Guardian