David Cameron and the Conservatives have links to the very top of Google
PM has enjoyed special relationship with former Google CEO Eric Schmidt
Cameron's once-closest political adviser also has links with the web giant
Steve Hilton's wife was a vice-president at the search engine until last year
David Cameron and the Tories have links to the very top of Google going back decades.
The Prime Minister has enjoyed a special relationship with former Google CEO Eric Schmidt, who made billions turning the search engine business into a global powerhouse.
For years Mr Schmidt was on Mr Cameron's business advisory board, which is used as a 'sounding board' on business matters, but the Google executive left in July.
The billionaire has reportedly also advised Mr Cameron on economic policy.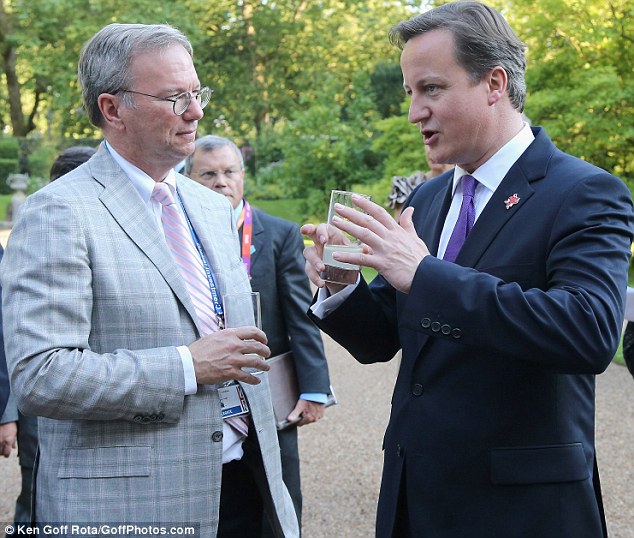 Former Google CEO and now executive chairman Eric Schmidt chats to Prime Minister David Cameron at a drinks reception in 2012 – and has in the past advised Cameron on economic matters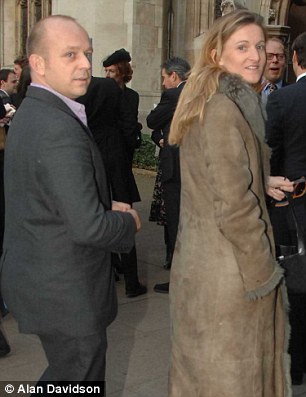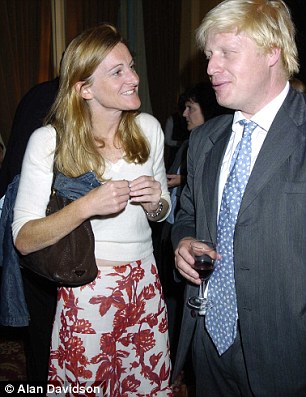 Links: Steve Hilton (left) was David Cameron's policy guru and his wife Rachel Whetstone (right) was a Google PR executive who worked for the Tories
The links do not end there because Steve Hilton, once the Prime Minister's closest political adviser, is married to Rachel Whetstone, who was vice-president of global communications at Google until last year before she moved to Uber.
Ms Whetstone is a former No 10 aide and was Michael Howard's director of communications when he was Tory leader and Mr Cameron is godfather to her younger son.
Mr Hilton was godfather to Ivan Cameron, the late eldest child of David and Samantha.
So, where was George? On a jolly with Bill Gates…QUENTIN…
Hilton and Whetstone have been called the 'most powerful couple in Britain' while she and Mr Cameron have known each other since starting at Conservative Central Office in their early 20s.
Hilton and Whetstone later bought an Oxfordshire holiday home close to the Camerons.
Last year Mr Hilton, who quit as Mr Cameron's former chief strategist, admitted too many of those at the heart of government go to the same dinner parties and send their children to the same schools.
Mr Hilton warned: 'Regardless of who's in office, the same people are in power. It is a democracy in name only, operating on behalf of a tiny elite no matter the electoral outcome.'
In 2013 David Cameron, accompanied by his wife Samantha and their daughter Florence, went to the wedding of a Naomi Gummer, a senior Google executive with the brief of 'public policy'.
She was previously a political adviser to Jeremy Hunt when he was Culture Secretary in charge of internet regulation – so he was in attendance too.
The Hilton/Whetstone axis is not the only relationship between Google and Government.
Eric Schmidt, the former CEO of Google, has long been close to Downing Street and has in the past advised Cameron on economic matters.
Tim Chatwin was Mr Cameron's head of strategic communications and joined Google after the 2012 Tory conference
LABOUR WRITES TO CHANCELLOR AND TELLS HIM: THESE ARE THE EIGHT QUESTIONS YOU MUST ANSWER ON THE £130M GOOGLE TAX DEAL
Labour shadow chancellor John McDonnell today wrote to George Osborne demanding more information on Google's tax bill.
In his letter he said that there are eight questions he must answer:
Firstly, please can you clarify exactly when you were first made aware of the details of the deal with Google? Did you (or any other Treasury Minister) personally sign it off, and were other Ministers involved in the settlement?
What discussions, if any, did you or members of your private office have with HMRC and with Google representatives about the deal?
Did HM Treasury and HMRC discuss details of the deal with Number 10 before the announcement was made?
What is HMRC's understanding of the effective tax rate faced by Google over the past 10 years as a result of this settlement?
Are you confident that this deal will not undermine international co-operation on tax avoidance, such as the OECD [Organisation for Economic Co-operation and Development] base erosion and profit shifting scheme?
Can you clarify whether Google is changing the company structures that enabled this avoidance to take place over the past decade?
What concerns, if any, do you have that this agreement creates a precedent for future deals with other large technology corporations?
To help ensure HMRC is best placed to address complex issues like this will you now halt the programme of HMRC staffing cuts?
In 2006, Mr Cameron travelled from visiting Google in Silicon Valley to Bournemouth to address the Conservative Party conference.
Then in 2010 when Cameron announced a review of Britain's intellectual property laws as the founders of Google have said they could never have started their company in Britain'.
In 2012 it emerged that Tory ministers held meetings with Google an average of once a month.
Official records show that David Cameron met Google executives three times and Chancellor George Osborne four times.
Google has held five meetings with the UK government over the past two years to discuss launching driverless cars in Britain.
It is not just a case of former government policy staff exiting through Westminster's 'revolving door' to Google – it works the other way too.
Tim Chatwin was Mr Cameron's head of strategic communications and had worked closely with Mr Hilton since the start of the Cameron modernisation project. He joined Google after the 2012 Tory conference.
Amy Fisher was once Google's PR chief for European affairs and later bagged a job advising then Justice Secretary Chris Grayling.
Google tax deal is a 'real vindication' says George Osborne
Source: Daily Mail