New Year's Eve Information for Taxi and Private Hire Drivers
On New Year's Eve the annual fireworks display will once again take place on the River Thames opposite the London Eye. Special arrangements will be in place for access to the ticket only viewing areas with specific entrance and egress routes. This notice contains important information for taxi and private hire drivers who are dropping off or picking up passengers with tickets to the event.
Viewing Areas
The viewing areas are only accessible to people with a ticket to a designated viewing area. There are a number of different designated viewing areas and passengers must go to the area that is specified on their ticket.
Each viewing area has a specific entrance and so it is essential that you know which viewing area your passengers have tickets for, so as you can drop them off in a convenient location.
There are five designated viewing areas and these are colour coded as are the associated tickets. The codes are:
Red – along Victoria Embankment, between Embankment Station and Temple Station
Blue – along Victoria Embankment, between Northumberland Avenue and Westminster Bridge
Green – Belvedere Road
White – Westminster Bridge
Pink – Waterloo Bridge

Check with your passengers which area their ticket is for so as you know where it is best to drop them off or pick them up.

The entrances for each area are shown on the map below. Entrances for the red and blue viewing areas are on the northern side of the river while the entrances for the green, white and pink viewing areas are on the southern side.
Pedestrian Restrictions
The map below shows the times when pedestrian restrictions will start to come into effect on 31 December. On this map you can check whether certain locations where passengers may want to be dropped off at or picked up from are located within a ticketed viewing area, an outer event area, or outside of the event area altogether.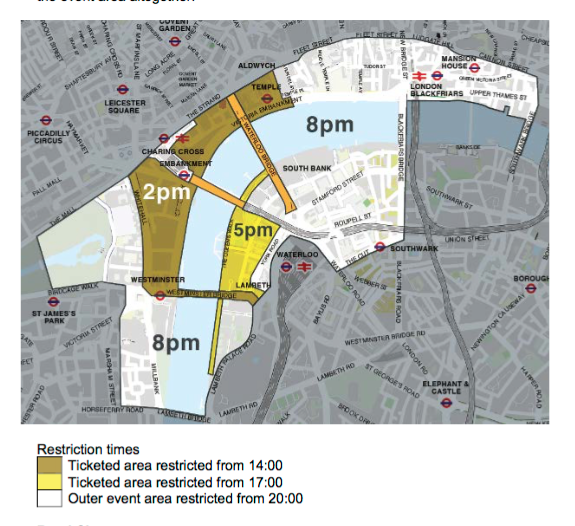 Restriction times
Ticketed area restricted from 14:00 Ticketed area restricted from 17:00 Outer event area restricted from 20:00
Road Closures
In order to ensure that such a large event as the New Year's Eve fireworks display can take place safely, a number of road closures are required.
The map in Appendix 1 shows the road closures that will be in place and the times these come into effect. The road closures will remain in place once the fireworks display has finished and will be removed once it is safe to do so. When picking up passengers who have made a booking it is important to
confirm which viewing area they have been in so as you can arrange to pick them up at a convenient location outside of the road closure area.
Some suggestions for pick up locations for each viewing area are below:
Red viewing area– along Victoria Embankment, between Embankment Station and Temple Station (north of the river)
• Holborn Viaduct
• Newgate Street
• Chancery Lane Tube Station/Gray's Inn Road
Blue viewing area – along Victoria Embankment, between Northumberland Avenue and Westminster Bridge (north of the river)
• Lower Grosvenor Place • Bressenden Place
• Grosvenor Gardens
• Grosvenor Place
• Vauxhall Bridge Road • Conduit Street
Green viewing area – Belvedere Road, White viewing area – Westminster Bridge and Pink viewing area – Waterloo Bridge (south of the river)
• Kennington Road up to Lambeth Road
• St George's Road
• Newington Causeway • Borough High Street
Taxi Ranks
Although taxi ranks in the road closure area will not be accessible there are a number of ranks outside of the area including:
Conduit Street
Hamilton Place
Park Lane
Victoria Station – Bridge Place and Vauxhall Bridge Road only
Ecclestone Place
South Lambeth Place
South Lambeth Road
New Kent Road
London Bridge Station
St Thomas Street
Charterhouse Street
Holborn (Waterhouse Court)
Gray's Inn Road (ITN)
Further information about the New Year's Eve fireworks display is available on
our website here and the GLA's website here.